For many wheelchair users, power seat functions can be vital for everyday life participation and health. Consider how power seating may play a positive role in your life! For example, would power seat functions make it easier to reposition for functional tasks, reduce pressure on your sitting surfaces, or maximize your comfort?
Most commonly, power tilt, recline, and elevating legrests are discussed during the wheelchair evaluation process. ActiveReach forward tilt and ActiveHeight power seat elevation are also available on some power wheelchair models, and when used together, they can help to put your world within reach. Join us for this two-part series as we review ActiveReach and ActiveHeight in more detail, including potential health and functional benefits.
ActiveReach™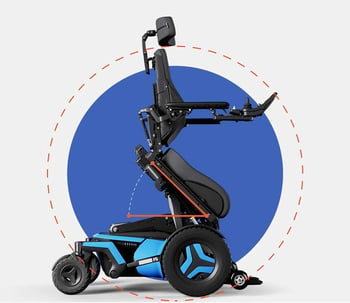 The forward tilt of a seating system, also known as anterior tilt or ActiveReach, may allow you to complete some functional tasks with greater ease and/or improved independence. With just 20° of ActiveReach, it's amazing how much access you may be able to gain! For example, when reaching to complete a countertop activity, ActiveReach helps by putting your body in a more engaged and active position, rather than being positioned sideways to the task at hand. For Permobil power wheelchairs, the seat can tilt forward from 5 to 45° depending on the chair model and ActiveReach package selected. This can provide up to 4.5" of additional reach when combined with ActiveHeight.
Potential health benefits

An ActiveReach position can improve your access to faucets and other surfaces for your hygiene routines. It can also provide some weight bearing through your legs which may help reduce spasticity or provide a possible method for forward weight shift to help with pressure management.
Social engagement

Provides you with a more suitable position to:
Give someone a hug or shake a hand
More engagement in a conversation
Ability to participate in tabletop games/activities
Improved access to smartboards at school/work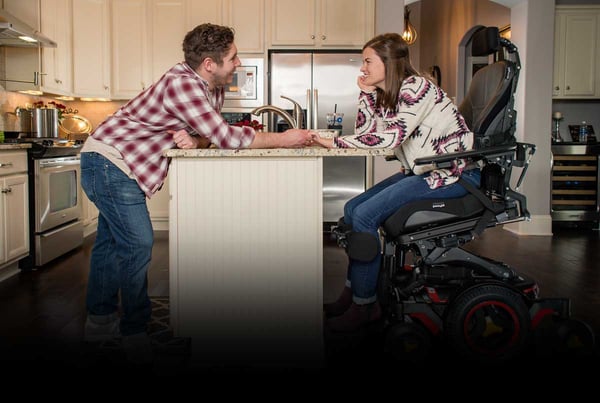 Functional activities

There are numerous positioning benefits with ActiveReach:
Provides the possibility to lower your knees slightly to get under tables/sinks/desks

Allows you to stabilize your elbows on a desk while using a keyboard

Shifts your body forward during eating for improved access to eating surface/plate/cups/etc.

Increases clearance for knees under steering column of an accessible vehicle (when driving)

Lets you get closer to objects such as your fridge, sink, reaching for cabinet contents, or stovetop cooking

Get under a wall-mounted or pedestal-style sink in the bathroom to access the faucets and provides you with a more forward position for teeth brushing and general hygiene needs

Easily reach ATM and pay platforms at stores

Improves ability to appropriately place

transfer boards or use gravity to get into a transfer-ready position
---
Join us next week as we review the health and functional benefits of ActiveHeight power seat elevation.
Are you interested in learning more about how ActiveReach and ActiveHeight could make a difference in your life? Click here.
---
---

Permobil Clinical Education Team
This information comes from the Permobil Clinical Education team which consists of a group of Occupational and Physical Therapists. Click here to learn more about Permobil clinical education team.