This is part of our series highlighting a consumer's guide to seating and mobility equipment. Check out The Wheelchair Handbook for more information about the wheelchair service provision process.
---
At Permobil individuals and their incredible stories are at the heart of why we do what we do. Last year we had the amazing opportunity to follow along with Andrea Dalzell, a registered nurse working in New York City, as she pushed the New York City Marathon. After the race, she sat down with Grant Brogan, Inbound Marketing Specialist for Permobil Americas, to discuss the importance of an ultra lightweight manual wheelchair and being an advocate for yourself. Below is part of the conversation between Andrea and Grant where they discuss Andrea's wheelchair setup. This interview with Andrea was edited and condensed for clarity.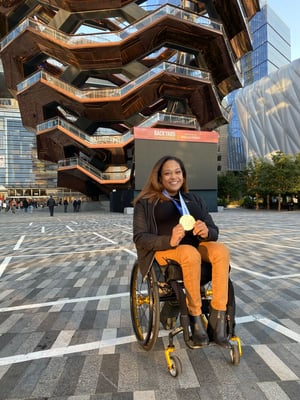 On Andrea's wheelchair setup
Grant: This is a brand new TiLite wheelchair and it is custom fitted to your body, your shape, made just for you. How does it feel?
Andrea: Sitting in it, it's like a glove, it's made for you. Curtis from Permobil worked on the ZR manual wheelchair with me. Everything, every single detail, is something that I was able to talk to someone who understood not only the product but also understood body mechanics of someone with a disability. It's very hard to find someone that knows both. It was incredible to be able to sit through the process, have multiple conversations and meetings to make sure this chair would be right. It's life changing, yes.
G: You have an ultralight wheelchair. I'm curious to hear your thoughts on the difference weight has made in your experience not only for the marathon but just in your everyday life.

A: Yeah, so this wheelchair came with some different features for me. I suffer from Carpal Tunnel Syndrome and rolling with regular wheels, my grip is extremely tight which meant that I was putting a lot of stress on a particular part of my wrist. Within two days of having an ultralight wheelchair, I no longer felt the pain. And that's just from the natural fit design around the Spinergy wheel. On top of that, my ultralight wheelchair weighs altogether less than 12 lbs. I'm also able to lift the chair easier, so I'm not putting that stress on my shoulders. Pushing in the city streets, everything is concrete, it's bumpy, it's not even or flat. My new chair is able to move with me a little bit easier than if it were heavier. Before I was trying to push against the streets but now I'm just gliding.
G: Incredible. What about positioning, any positioning changes?
A: For positioning, we kept it very much the same, but I'm now using a ROHO Hybrid Select cushion which allows me to bucket my hips into the wheelchair along with having very fixed equipment. It goes back to everything fitting like a glove. It's like sitting on a cloud.
---
Click here to watch the webinar which includes the full conversation between Andrea and Grant along with a Q & A session following the conversation. For more information about the wheelchair service provision process check out the The Wheelchair Handbook: A consumer's guide to seating and mobility equipment. Check back next week as we continue the conversation with Andrea and turn the focus to being a self-advocate.
---

Permobil Clinical Education Team
This information comes from the Permobil Clinical Education team which consists of a group of Occupational and Physical Therapists. Click here to learn more about Permobil clinical education team.