SmartDrive
Power your push, your way
Designed to inspire confidence in new and experienced users, SmartDrive provides more options for your mobility with the launch of the PushTracker E2 & SwitchControl. Customize your experience by selecting the device or devices that best meets your preferences.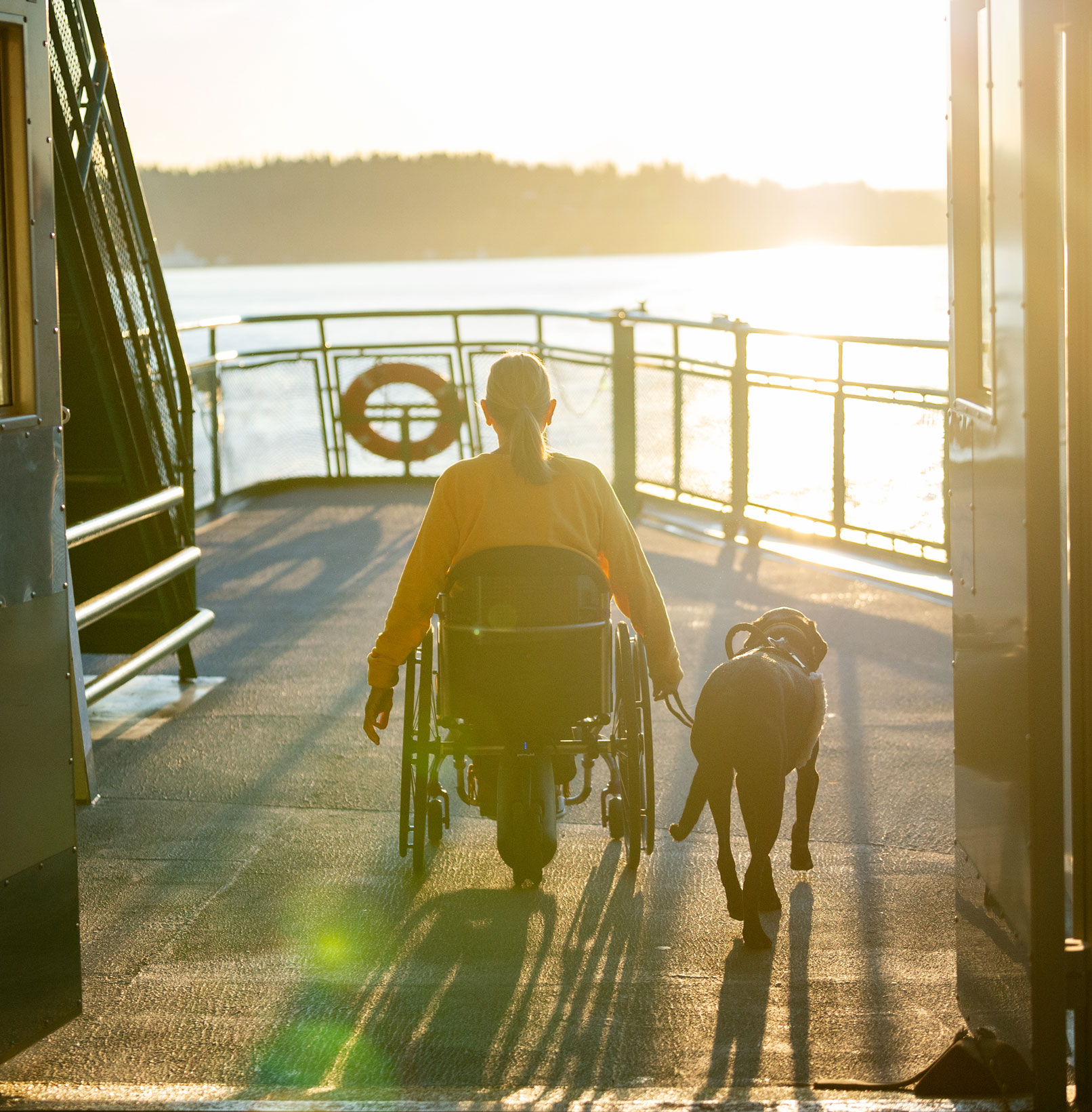 Find your way with SmartDrive
Navigate through each option here to learn how the addition of PushTracker E2 & SwitchControl now allows for more people to experience SmartDrive.
Discovery
Ideal for those who want the facts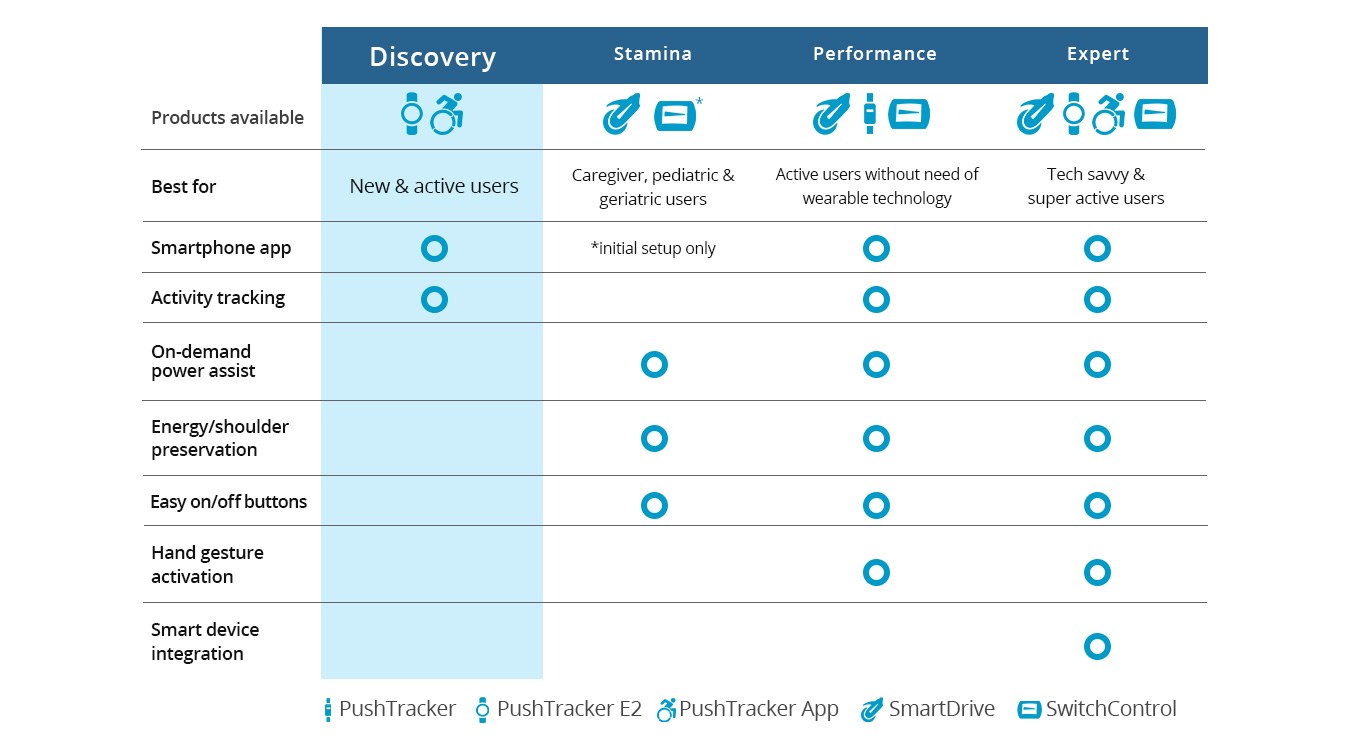 Products Available for the Discovery Option

Manual wheelchair users push 2-3000 times per day, and this can affect mobility related health. What does mobility related health look like? Understanding this is important and the PushTracker E2 paired with the new PushTracker App provides you with the insight you need.
The PushTracker App tells you:
• How far you've gone
• How many times you've pushed
• How much you coast (time between each push)
Discover what your mobility demands are by knowing these facts. Once you know your demands, track and set goals so you can do more based on what is important to you.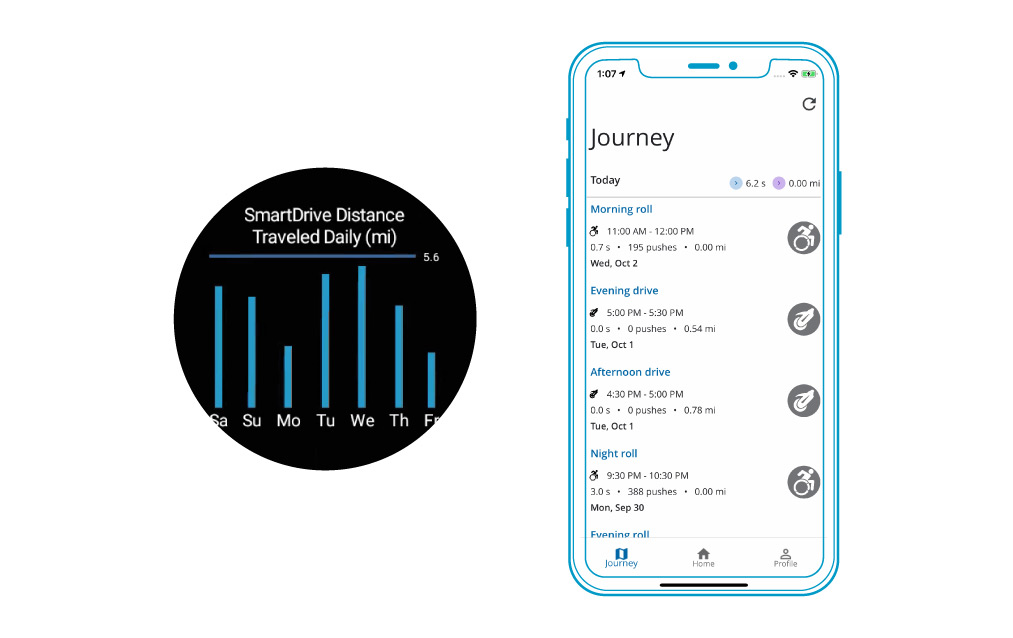 Mobility Related Health:
• Are you trying to do more each day?

• Are you concerned about the long-term health of your shoulders?

• What days of the week are busiest for you?

• Does your new wheelchair allow you to propel better than your previous wheelchair?
• How many breaks do you take each day
Stamina
Ideal for those who just want a simple assist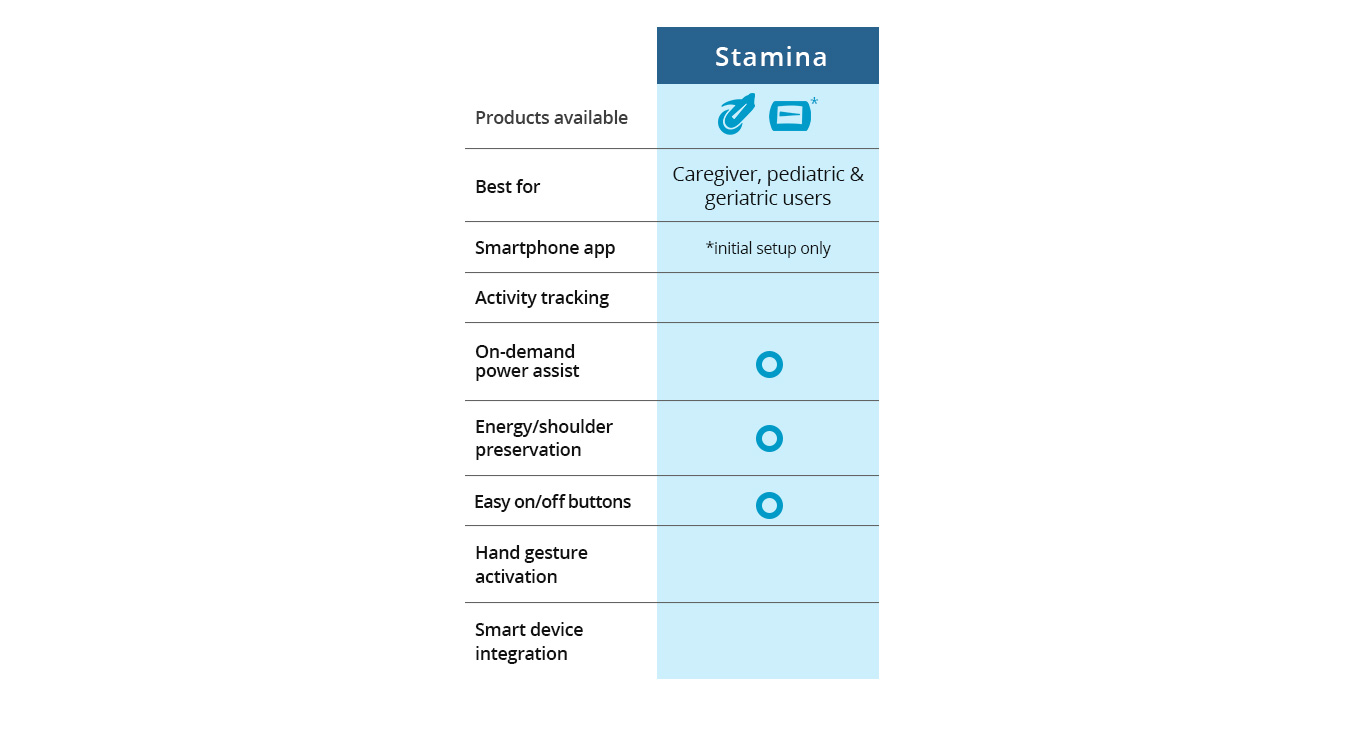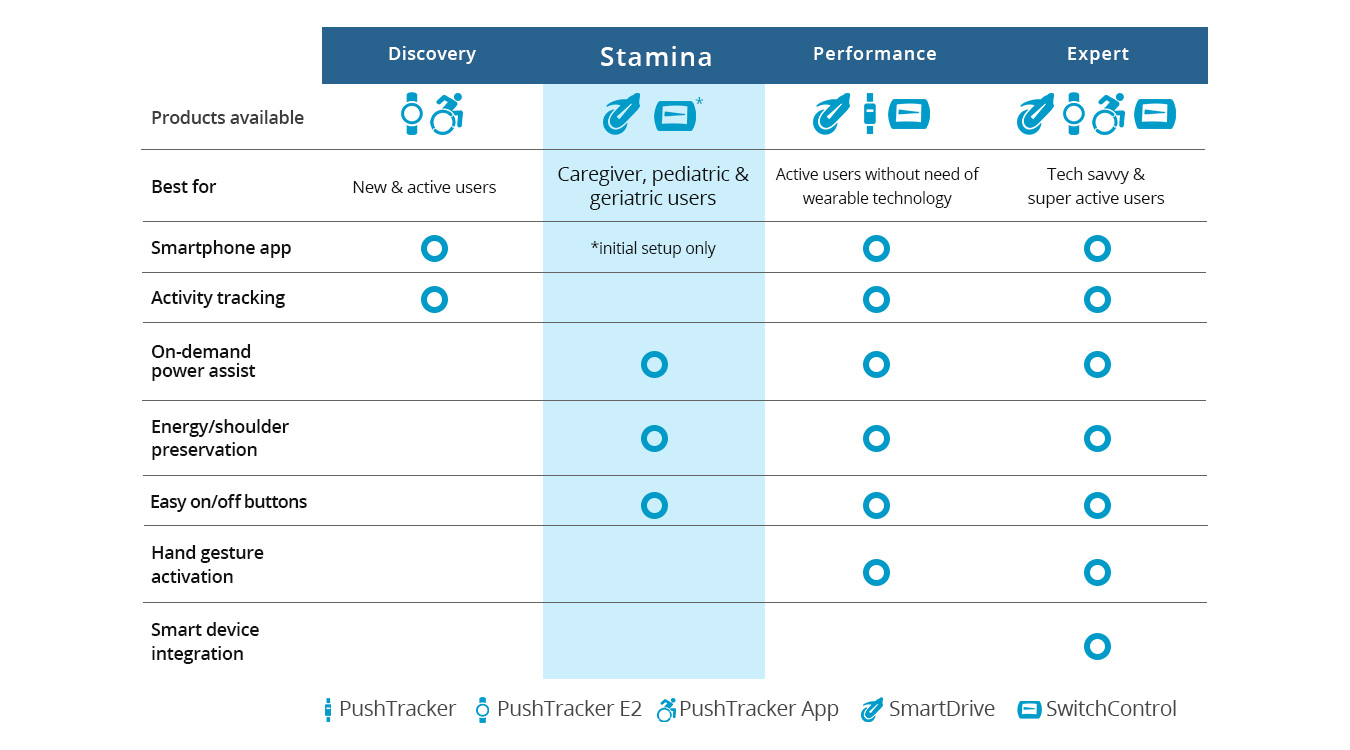 Products Available for the Stamina Option

Anyone in a manual wheelchair, whether independent or dependent, could benefit from a simple assist. SmartDrive was designed to improved mobility for any wheelchair user and can be controlled with the touch of a button. SmartDrive can be engaged for a momentary burst of power or activated in latched mode for consistent power over extended distances.
Our button is called SwitchControl and is a simple solution to control a SmartDrive and improve mobility health. SmartDrive also has an option where you can attach any button or switch you prefer.

Here are a few examples of who might benefit from using SwitchControl alone to control SmartDrive:
• On the go manual chair user who prefers minimalist approach
• Parent's who prefer a button for their children to use SmartDrive
• Caregivers who need assistance pushing tilt-in-space or standard manual wheelchairs
• Person who mainly foot propels and needs a boost for endurance or varying surfaces
• Caregivers who prefer to walk side be side with their loved ones or clients
• Manual wheelchair user more interested in power assist than activity tracking
Performance
Ideal for those who want a simple wearable and switch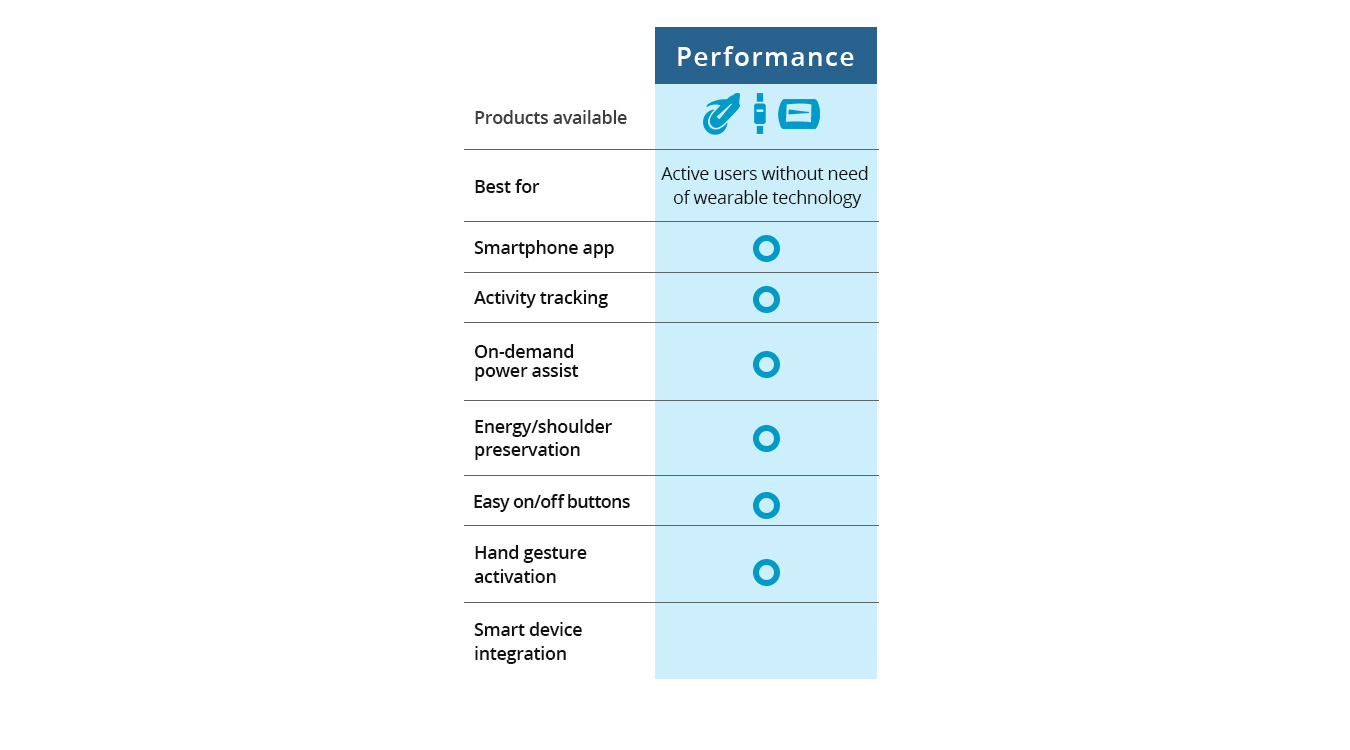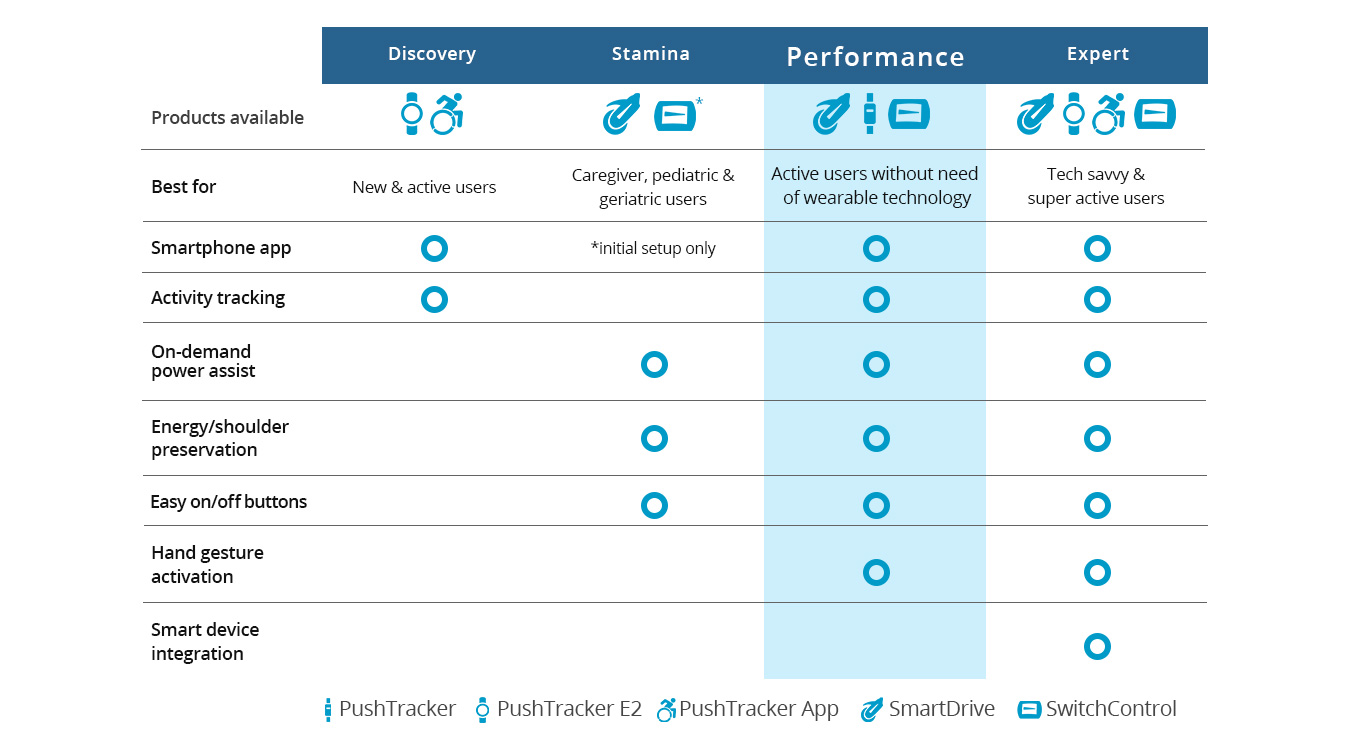 Products Available for the Performance Option

The SmartDrive performance option builds upon where stamina left off, adding in just a bit more technology. The original PushTracker and SwitchControl pair up for more control. Tap gestures provide you with full control of your SmartDrive without requiring a strong push stroke or for you to take your hands off the wheels. Pair that with SwitchControl (that now comes standard with every SmartDrive) to quickly turn on and off your motor for thresholds and ramps, and performance is yours. Fine tune your performance even further by using the PushTracker app to control your settings and keep your system up to date.
Who might consider the Performance option with original PushTracker and SwitchControl:
• A person wants to use tap gestures instead of or in combination with a single button
• Someone who prefers a wearable without phone capabilities, apps, or Wi-Fi is preferred
• A parent who wants their child to have tap gesture control, but not access to a smart wearable
• Someone who prefers a smaller profile wearable
• A person who looks at mobility related statistics occasionally


Expert
For those who want all of the latest and greatest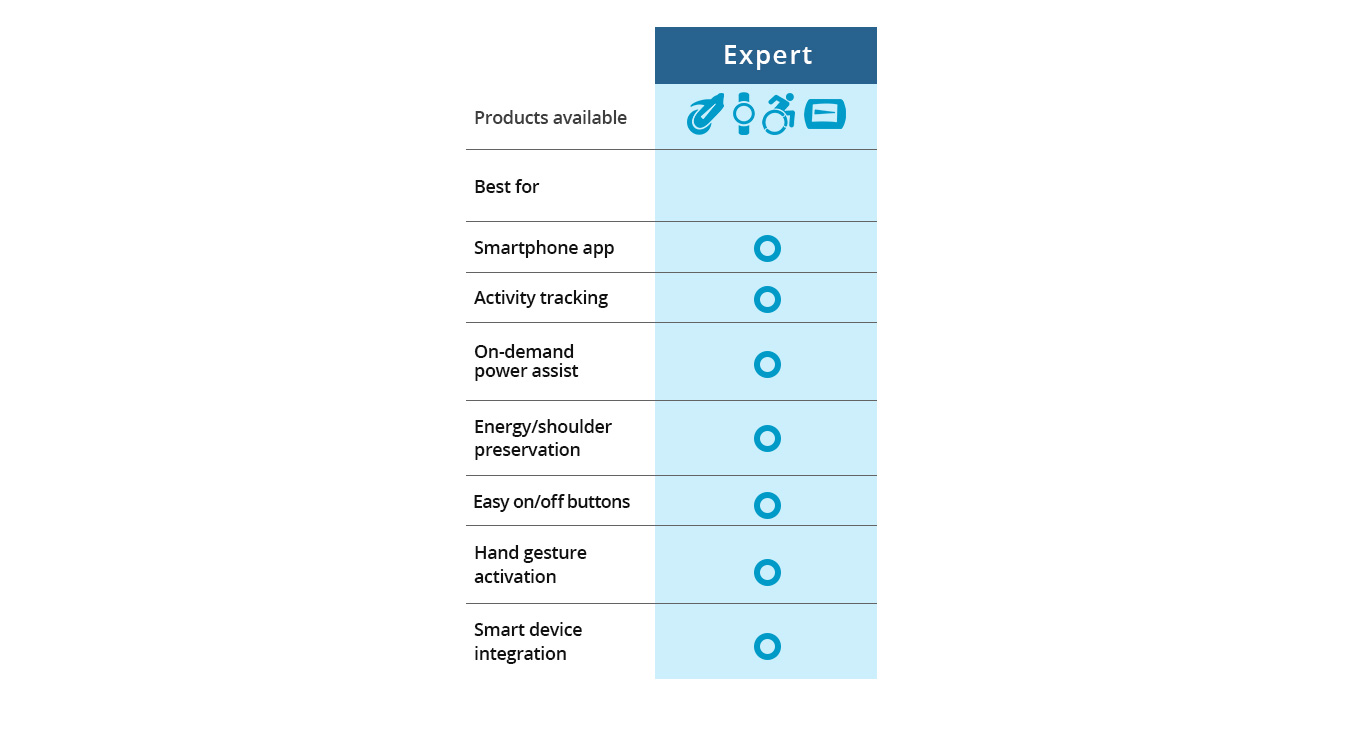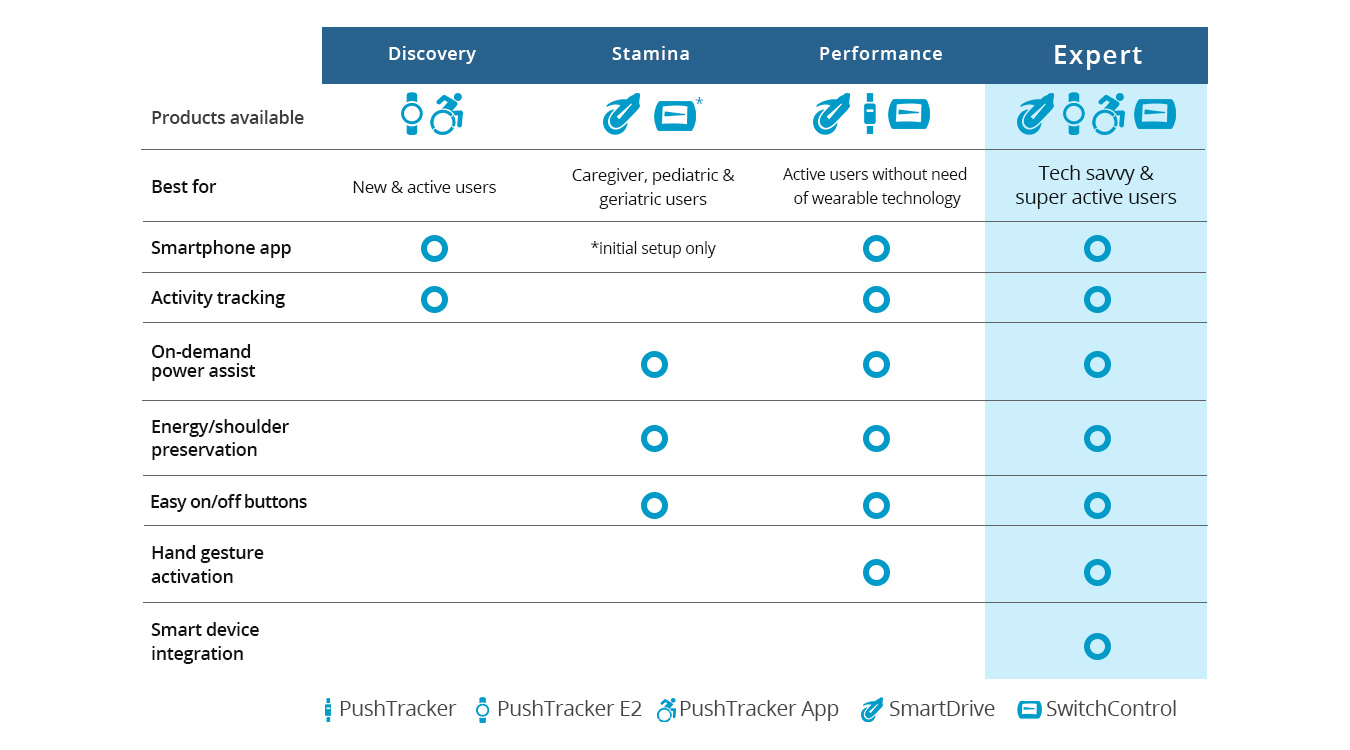 Products Available for the Expert Option

SmartDrive has evolved to include more people and the best technologies for a seamless power assist experience. The new PushTracker E2 has all the benefits of the original PushTracker, but goes further with 8x more reliable connectivity and the functionality of a smart wearable.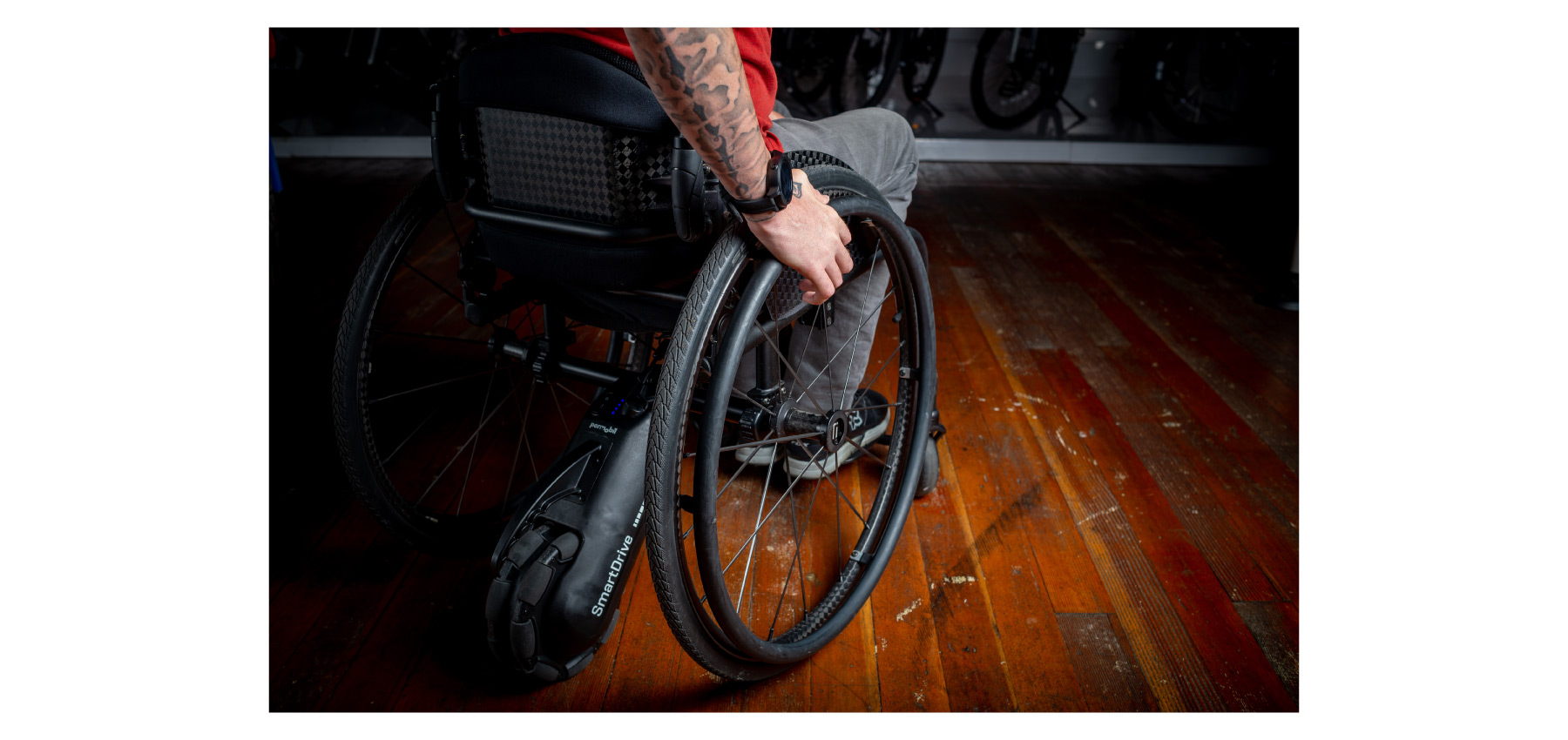 And remember SwitchControl comes standard with SmartDrive. Control all your settings through SmartDrive settings, including your SwitchControl, through your PushTracker E2. Get updates on mobility related health statistics on your wrist or use the PushTracker app to gain even more insight.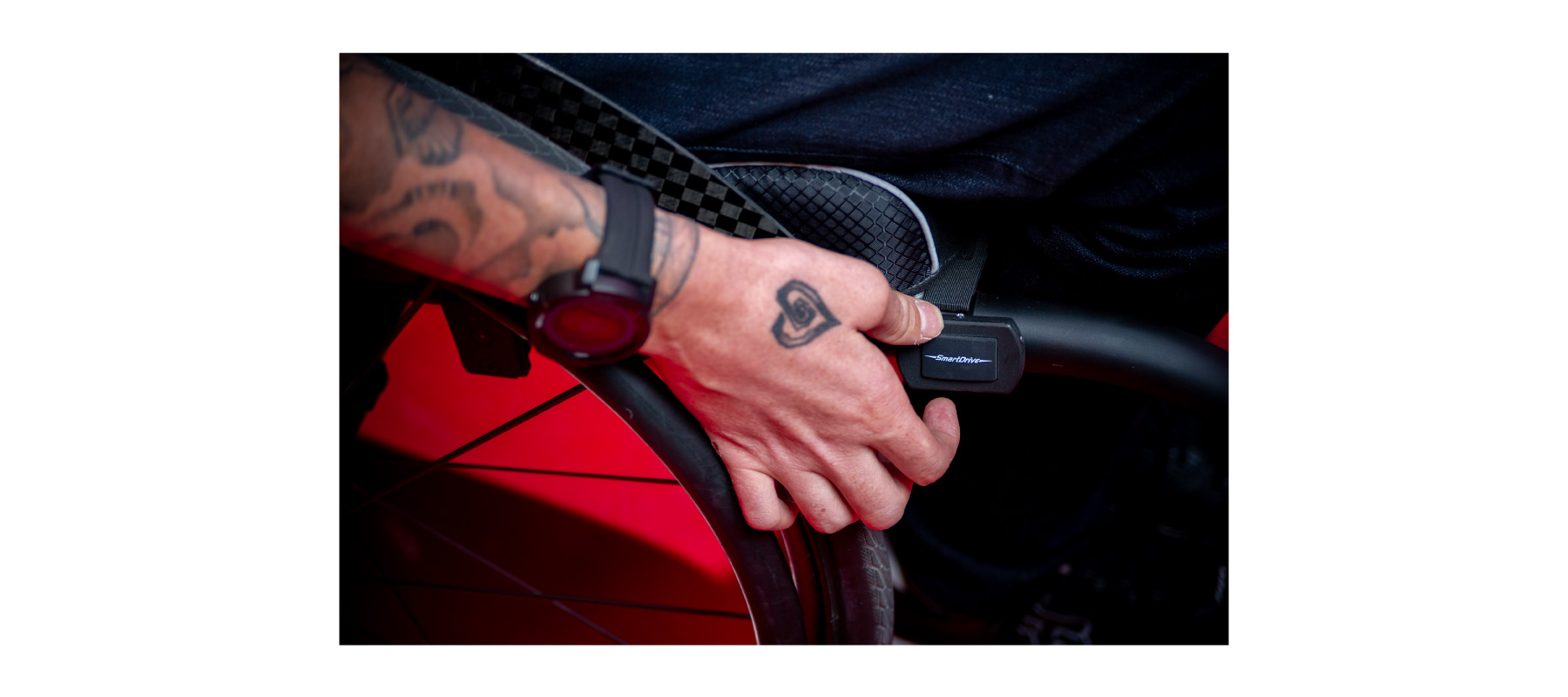 The PushTracker E2 makes using your SmartDrive easier than ever before. The easy to read, touch screen makes you completely in control and provides you up to the minute feedback on your mobility demands.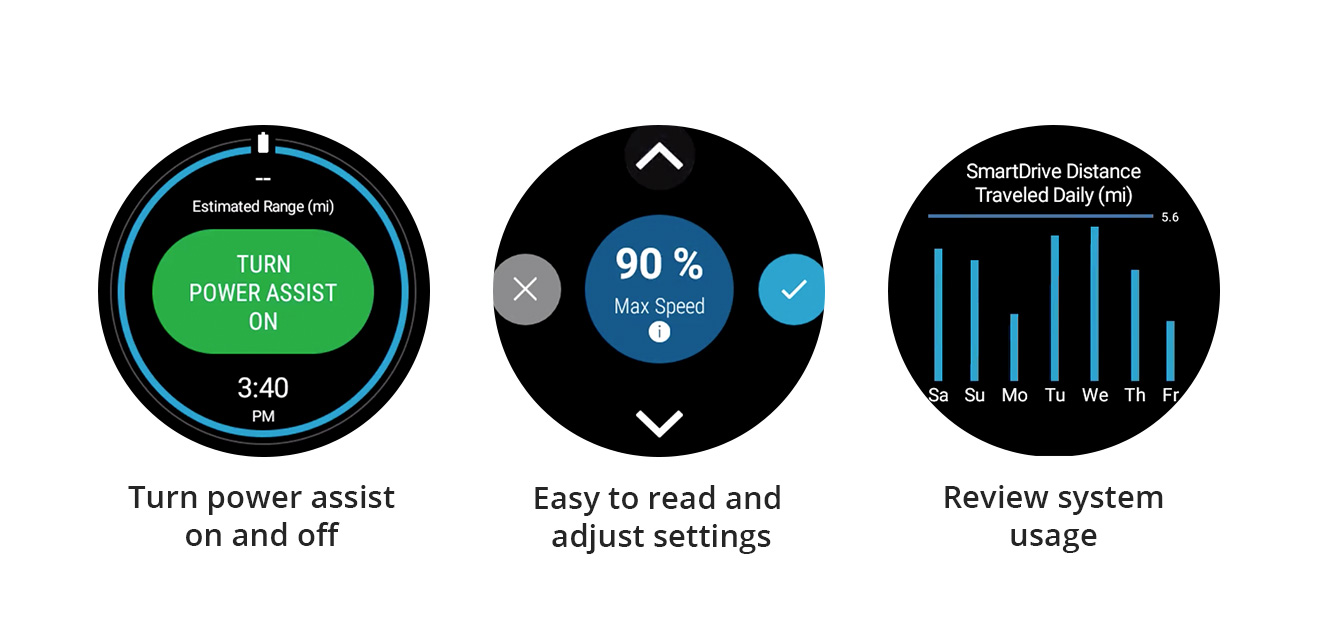 Who might prefer the Expert option:
• The person who wants the most of what's available
• Someone who uses power assist and wants to know its effect
• A person who wants control options based on their environment

• Someone who wants the opportunity to control their device always at their finger tips
• A person who wants phone, messaging, app, and wi-fi capabilities on their wrist
---
For more information contact a representative at 800-736-0925 or find a provider / retailer near you.
All contents © copyright 2019 Permobil. All rights reserved.
Performance measurements will vary based on user and chair characteristics, driving and battery conditions.
The SmartDrive has been tested and conforms to all applicable requirements of ANSI/RESNA Standards for Wheelchairs - Volume 1 and Volume 2 and EN 12184.
NOTE: A wheelchair's specifications provided by its manufacturer may be slightly affected by the addition of the SmartDrive