While standing power is not a new concept the ability to get it funded is. Some states have been lucky to approve standing power wheelchairs for many years while others still sit. Often clinicians are intimidated by the lengthy justification, patients choosing not to wait so long to obtain their power wheelchair, or suppliers who do not want to deal with a drawn-out process.
---
Strong medical justification is key to pursuing standing power. Focus on medical and functional benefits are key components of the justification for standing power.
Medical benefits such as:
Spasticity control: Standing and weight bearing can have the effect of normalizing tone which may lead to increased function.
Pain reduction: Standing may allow easier access for reaching items throughout the day, which may decrease the risk of repetitive strain injury.
Urinary/ Bowel improvement: Standing may reduce the incidence of UTI's and kidney stones by reducing the effects of gravity, and constipation or bowel accidents may be reduced as standing improves the efficiency of the colon.
Range of Motion Improvement: Coming to a standing position involves stretching muscles that have been shortened in the seated position. Standing can allow for a prolonged stretch which may help with minimizing the risk of contractures.
Cardiovascular/Respiratory Improvement: By changing positions and utilizing the standing feature frequently throughout the day, it may improve respirations and circulation.
Pressure management: We see the most pressure reduction at the seated bony prominences when in standing or full recline. Standing provides pressure reduction while allowing for function at the same time.
Bone Mineral Density: Shorter, more frequent standing has been shown to help increase bone mineral density. A standing wheelchair allows for these "intervals" of standing throughout the day as opposed to using a standing frame that is static.
---
Functional Benefits:
As stated above, standing can provide medical benefits such as pressure management, range of motion improvement that have traditionally been dealt with using tilt and recline options. The major difference is that standing allows for function while achieving these benefits. If you think of school aged children in a classroom, standing takes less space to follow a pressure management protocol than tilt and recline, and the child can be continuing with their school work rather than being interrupted. In addition, standing is a socially accepted posture that allows for daily interaction.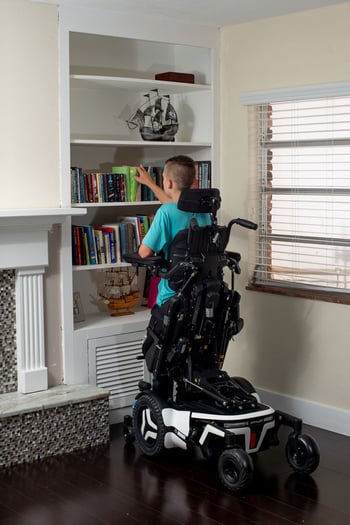 Consider daily activities such as meal prep, reaching into cupboards or dressers, grooming at the sink and dressing. All these activities may be simplified for the appropriate wheelchair user when in a standing position. It may require less energy to perform some of these tasks, resulting in energy conservation for other tasks throughout the day. Another benefit may be a decreased need for home modifications since they are able to access areas that they couldn't from a seated position.
Including additional items such as standing trial logs (5 day trial either at home or clinic) can be beneficial and you may need to get a static stander from supplier to accomplish this. Providing photographs or videos of improved functional activities, or evidence-based research can also strengthen documentation. The more cards you can play the better.
---
Who Can Benefit from Standing?
A standing feature on a wheelchair is not diagnosis driven. Consider people who live with a spinal cord injury, a brain injury, or a progressive neurological disorder. They all may benefit from the ability to stand in their wheelchair for the medical and functional benefits listed above. So, how do I know which clients would be appropriate for a standing feature?
Ask Questions:
1. Does the client qualify for Group 3 power mobility?

Yes; continue to # 2

No; pursue a manual wheelchair or Group 2 power

2. Has the client been active in a standing program in their home or clinic?

Yes; continue to # 3

No; recommend patient work with a qualified therapist on standing ability protocol

3. Has the client expressed interest in standing based on medical and functional goals?

Yes; continue to # 4

No; continue with Group 3 power

4. Recommend client receive medical clearance from his/her provider for a Group 4 power wheelchair.

5. Communicate next steps with the team.
---
F3-F5 Upgrade in Simple Terms
When funding is an absolute no-go what are the options? The easiest option is to approach the funding source with the Group 3 power wheelchair (F3) then proceed with the upgrade program using private or alternative funding. Essentially get the insurance to pay for the most expensive part and cover the jump to Group 4. When I say cover the jump to Group 4, this can mean the client themselves or alternative funding groups such as: Care Credit, vocational rehab, national associations (www.especialneeds.com), fundraisers (Go Fund Me) and the Permobil Foundation.
With all these funding options, it's a good reminder that standing truly is a medically and functionally necessary option for some clients and should always be a viable consideration!! For more information on Standing Wheelchairs, check out Landon's Journey to Standing.
---
---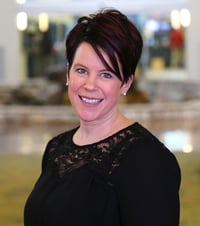 Ashley Detterbeck DPT, ATP, SMS
Clinical Education Manager
Ashley Detterbeck DPT, ATP, SMS received her Doctorate in Physical Therapy from the University of Minnesota in December 2006. She currently holds certification with RESNA as an Assistive Technology Provider and Seating and Mobility Provider. Detterbeck joined Permobil in 2017 as a Clinical Education Manager covering the Upper Midwest. Prior to joining Permobil, she spent 13 years with the Marshfield Clinic in Marshfield WI, where she ran the Seating and Mobility Clinic, participated in adult and pediatric gait based research, provided ongoing neurological care to both adults and pediatrics. With Permobil, Detterbeck is currently presenting educational programs to therapists and DME suppliers regarding seating, wheeled mobility, and pressure ulcer prevention.