Wheelchair seating and positioning is NEVER easy. We work so hard to make changes and often times see one change expose another issue and suddenly the positioning puzzle goes from a 100-piece to a 300-piece puzzle! We fix one issue but create another. How many times have you finally achieved that seat to floor height (STFH), only to realize that when the resident fatigues from self-propulsion and suddenly requires the legrests, the chair now is TOO low to the ground and the legrests do not clear thresholds? UGH!!!! Back to square one! Ring a bell?
---
How do you find the Proper Wheelchair Seating System?
Having a stockpile of sample wheelchairs of various sizes and styles, cushions, back supports, and accessories is crucial in finding the appropriate seating system for the resident. Seating clinics work closely with vendors who help the therapist get the samples they need to trial with their clients. The nursing home therapist usually isn't quite so lucky. I often felt like I was playing a bad game of musical chairs with the residents, shuffling equipment from one person to the next to make up for the lack of trial equipment in my facility.
I am here to tell you that throughout the US, there are local suppliers who work with manufacturers to obtain samples when needed. A good supplier would be more than willing to help you to trial anything, if he/she knows it will keep your business coming back!
It is so much easier to convince an administrator to spend money on higher-end, quality products when you have been able to trial that equipment first for "X" amount of days and prove its effectiveness firsthand. They will question your decisions less after a trial period when they see you have confidence that the equipment you order makes the difference in preventing falls and wounds, decreases pain, and enhances quality of life.
---
I strongly suggest calling suppliers or distributor's reps and asking to demo various wheelchair cushions and back supports you think may work for your resident. They all have relationships with manufacturers and should be willing to work with you to try things before ordering. If any given supplier or distributor's rep is not willing to do that, FIND ONE THAT WILL. You can even call the manufacturer directly and ask for one of their sales representatives to come to your facility.
Build a relationship with your local DME suppliers or distributor's reps. It will help you be more successful with seating and positioning for your residents. Being on the other side of the table now, working for a manufacturer, I know setting up trial programs is possible. It is a little more work on our part at first, but once that relationship is established, it is well worth it in the end for you and, above all, the patient.
---
---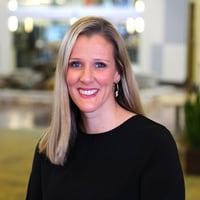 Ana Endsjo, MOTR/L, CLT
Clinical Education Manager LTC Division
Ana Endsjo has worked as an occupational therapist since 2001 in a variety of treatment settings. She has mainly worked with the geriatric population, dedicated to the betterment of the treatment of the elderly in LTC centers. Her focus has been on seating and positioning and contracture management of the nursing home resident. With this experience, her hope is to guide other therapists, rehab directors, nurses, and administrators through educational guides, blogs, webinars, and live courses in her role as Clinical Education Manager for the long term care division.