We have a problem. There are 2.5 million pressure ulcers each year in the US (Reddy et al 2006). Fifty percent of all admissions and eight percent of all deaths at specialized spinal cord injury hospitals are due to pressure ulcers (Thomas 2005). An estimated $11 billion is spent for treatment of pressure ulcers in the US annually (Reddy et al 2006).
WHY is Healing Pressure Ulcers so Difficult?
---

PRESSURE = "a localized injury to the skin and/or underlying tissue usually over a bony prominence, as a result of pressure, or pressure in combination with shear." NPUAP
According to the NPUAP a combination of pressure and shear leads to the incidence of pressure ulcers. It's almost intuitive to deal with the problem of pressure. We promote pressure relieving cushions that use either immersion or offloading to redistribute pressure from the high risk bony prominences. We also address temperature and moisture by using breathable cushion covers.
But what about SHEAR?
SHEAR occurs with a combination of pressure (downward forces) and friction (tangential forces). An easy way to feel the effects of shear is by placing your palm on your cheek. Push straight into your cheek, and then up at the same time. It causes the superficial and deeper levels of tissue to shift up doesn't it? So imagine this effect in seating. Seating is not static. When a wheelchair user is reaching for items during daily tasks, it results in a pelvic shift producing tangential forces combined with the downward pressure of being seated: SHEAR. A wheelchair user who tires during the day and slides forward into a posterior pelvic tilt, results in downward pressure being combined with friction: SHEAR. And these are wheelchair users who are active, able to perform activities of daily living. Imagine those who need assistance with weight shifting, transfers, or have tone. They too are prone to SHEAR forces throughout the day.
WHAT NOW?
Comfort Company not only addresses the issue of pressure (using a combination of immersion and offloading), but we directly address the effects of SHEAR in pressure ulcer prevention. We do this using an anti-shear technology called GlideWear on our cushion covers. GlideWear is a unique dual ply low friction fabric designed to transfer friction and related shear forces away from at risk tissue. A GlideWear panel is placed in the shear reduction zone, which directly correlates to the location of weight bearing bony prominences. Normal friction is retained around the posterior thighs where normal shear forces can be tolerated. This is called the stability zone. In conjunction with very low peak and pressure readings on a cushion, GlideWear provides a secondary approach to prevention of pressure ulcers. And that's by addressing SHEAR.
---
---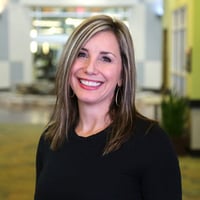 Stacey Mullis, OTR/ATP
Director of Clinical Marketing
Stacey is Director of Clinical Marketing. She graduated from Western University in London, Ontario, Canada with a BA Linguistics and BSc Occupational Therapy and has practiced as an OTR for over 20 years. With experience in pediatrics, inpatient/outpatient rehabilitation, long term care, and home health, Stacey has faced the challenges first hand of providing appropriate seating in various clinical settings. This led her to pursue an apprenticeship at Care Partners Seating Clinic in Asheville, NC to advance her skills, and she obtained her ATP certification in 2012. Mullis is a member of the NCOTA, CTF, NRRTs, RESNA, and AOTA.