Obtaining your custom manual wheelchair can be an overwhelming process. There are many functional and technical aspects to consider when choosing parts and set-up such as seat height, front caster size, back and cushion, front frame angle… and I'm just getting started! Customization allows for choices, but one selection that often seems to require additional time (maybe even days) to answer is: "what color do you want your frame?"
As a clinician who worked in an inpatient rehab facility, I can remember the days when there were only two color choices: red or blue. Permobil TiLite manual wheelchairs now offer over 20 wheelchair frame colors and finishes that include matte or glossy, metallic or hydrographics, not to mention accent or anodized component colors. The combinations are endless! You may even decide to leave the frame unpainted and display the natural titanium metal. So, how does someone decide what is right for them?
Selecting an aesthetic such as color is an individualized decision that can be used to communicate a person's style, culture, vocation, and personality. The psychology of color permeates everything we see and do in our world of business, marketing, social activities, and medicine to name a few. In marketing, color psychology is often used in branding to influence a viewer's thoughts and feelings. What color do you associate with the beverage "Coca-Cola" or the movie character "Superman"? Children who use a wheelchair often use color as a way to personalize and express their personality or interests such as a favorite color or superhero. Even NASA is concerned about color!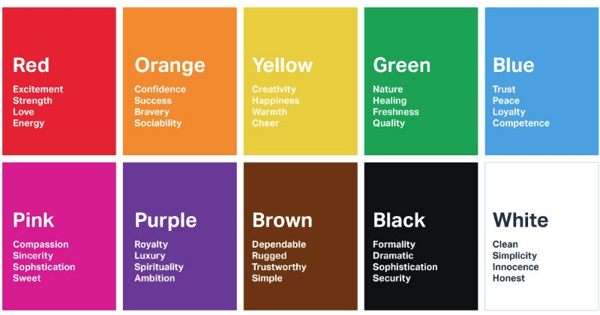 Image Source: Colorusage.arc.nasa.gov
Wheelchair manufacturers have seen a demand for increased customization and personalization as the Complex Rehab Technology industry has grown. End-users now can research potential new wheelchairs and all of their parts with the help of the internet and social media. So when they are finally ready to select their wheelchair, they have done their homework and know what is right for them.
Permobil supports this individual freedom of expression with the extensive TiLite frame colors and finishes, including special tattoos or patches for our Veterans. TiLite specializes in designing and manufacturing titanium and aluminum wheelchairs that are customized and made to each user's exact specifications. Applying color to different frame materials and parts requires detailed and specific techniques by the manufacturer. TiLite also listens to feedback from end-users and the market when deciding on new colors.
With that in mind, TiLite was excited to launch updated and new anodized color options in October 2021! Permobil has teamed up with Spinergy who develops revolutionary wheels for everyday and sports wheelchairs to provide anodized options and greater customization of the wheels than ever before! The anodized color options include black, blue, orange, purple, green and gold. The new anodized colors include green and gold. As part of the new anodized package, the caster forks, caster domes, and caps will be anodized in the color you selected. The other parts, such as the camber tube mount and footrest clamp, will be anodized black. Another new cool customization option is that TiLite will be offering the new anodizing package on your manual wheelchair that will match the hub and rim of the Spinergy Design Lab LX wheel if selected.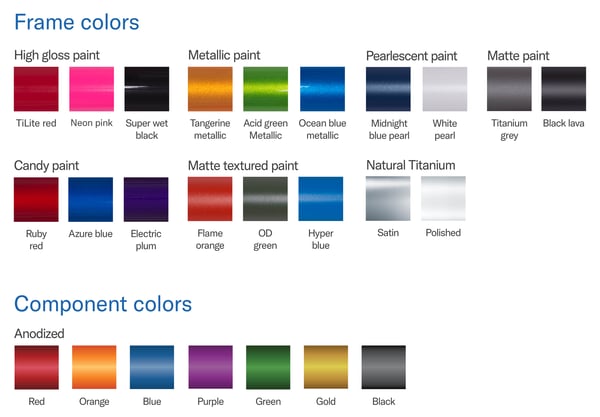 I have been present during a wheelchair evaluation as a person wrestles through an inner dialogue concerning whether their wheelchair should "blend in" or "stand out". One perspective often observed is that an end-user wants others to see them as a person and not focus on the equipment they use. To get a first-hand perspective, I reached out to one of our Permobil ambassadors, Ms Andrea Dalzell to explain her perspective and the "why" behind her wheelchair color choices and style over the years.
Ms Andrea Dalzell is a practicing nurse in NYC, Ms Wheelchair NY in 2015, and a disability advocate to name a few of her accomplishments and accolades. In September of 2020, Andrea received the Craig H Neilsen Foundation Visionary Prize of $1 million which is "meant to draw attention and celebrate passionate individuals advancing the world of the spinal cord injury field."
She shared during an interview by Tatiana Lee in May 2020, "Like any person with a disability, an ability is often shadowed by the visible component of a physical mobility device." I spoke to Andrea to gain insight into her views when asked the question, " What does the color of your wheelchair say about you?" Andrea conveyed the "multidimensional" aspect behind a person's decision to choose the color and frame of their wheelchair. She explains how a person often struggles with accepting their new identity as a wheelchair user when they first become injured, and the frame color often seems "abstract" in the beginning. She told me about how her identity and style has changed over the years and is reflected in her color choice history. "My first wheelchair was hot pink when I was a child and wanted to stand out, but when I entered high school, I chose a black frame to not attract attention". Andrea compared her wheelchair to a "pair of great fitting jeans that you love, but don't get to change very often even though you want to."
Reflecting on her life roles and career choices as she became an adult, Andrea expressed the need to keep her frame color more conventional to conform to her professional roles and match her wardrobe during photo shoots and speaking engagements. She attributes meeting an active TiLite user at one of the NY Abilities Expos to opening her eyes to TiLite and the ZR rigid wheelchair frame. As a result, she chose a silver frame with animal print tattoos which she has been using over the last 10 years. She told me her tattoo frame choice celebrated her personal style and reflected her own body tattoos which she is proud of. Andrea shared with me that her new TiLite ZR rigid frame is black with gold rear wheel rims and gold frame accents which she refers to as her "throne". Ending our conversation, she laughed saying that the new gold wheelchair color truly expresses her personality; "I'm loud and I am here."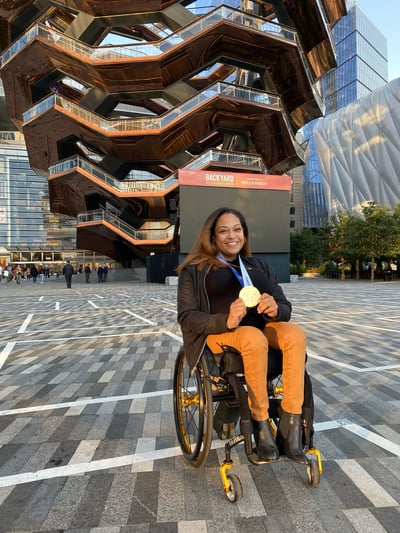 Each person's story is unique and intriguing! We want to hear your wheelchair "color" story and "why". Please share a picture of your wheelchair or leave a comment below on your personal style and wheelchair color choice.
Follow along with Andrea's journey on instagram.
Click here to learn more about TiLite wheelchairs
---
---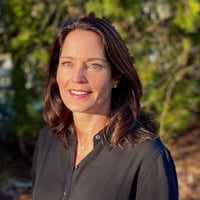 Heather Cianciolo, OTR/L, ATP/SMS
Regional Clinical Education Manager
Heather has been a practicing Occupational Therapist for 29 years specializing in the treatment of SCI, neuro, and orthopedic populations primarily in the acute and outpatient settings. Her specialization in seating and mobility began at the Kessler Institute for Rehabilitation in NJ managing the Inpatient Wheelchair Clinic. After settling in RI, she established the Wheelchair Seating and Mobility Clinic at Southern New England Rehabilitation Center (SNERC) in Providence which has now been servicing adult inpatients and outpatients for over 25 years. Heather has served as an Adjunct Professor at the New England Institute of Technology in RI fabricating and teaching a course on Wheelchair Seating and Mobility. Heather has been a speaker and guest lecturer on seating and mobility technology including presentations at Providence College, Johnson and Wales University, TechACCESS of Rhode island, and SNERC. Heather joined the Permobil education team in 2020.