As an occupational therapist who worked in seating clinics throughout my career, I always appreciated technologies that were innovative and improved by user feedback. Now, as the Director of Market Development for TiLite and SmartDrive, I get to help answer the challenge of integrating user feedback into product development and product updates.
The PushTracker E2 and all devices related to
SmartDrive product lines
are built on a technology platform that will enable us to continuously improve the experience for our users. SmartDrive recently released an updated version of the SmartDrive MX2+ app for the PushTracker E2. Here is what you need to know about the update:
Power Assist Time Out Function
A PushTracker E2 that has been inactive for greater than 5 minutes disconnects from the SmartDrive automatically and this time is programmable from 1-10 minutes. This helps to improve the battery performance, as well as avoid inadvertent taps.
Tap Detection Improvements Reduces Unintentional Taps
The tap detection of the PushTracker E2 works better than ever before with less unintentional taps. The engineers continuously study and develop the tap detection algorithm to provide a more seamless SmartDrive power assist experience.
Bug Fixes for Wireless Updates, Charts, and Time Zones
Changes made to improve the performance of the wireless updates done through the PushTracker E2, to fix sequence issues with battery usage and daily distance charts, and to display accurate time in the app when changing time zones.
"Deactivate Driving" Button now reads "Turn Power Assist Off"
Prior to this change, the text on the PushTracker E2 screen read "Deactivate Driving" while the motor was running. We have changed that text to now read "Turn Power Assist Off". This button now turns off the motor and disconnects the E2 from the SmartDrive simultaneously.
Continuous Scrolling vs Multiple Pages between Screens
You now will experience continuous scrolling as you navigate between the screens on the PushTracker E2 versus have multiple pages to scroll through. This means interacting with the PushTracker E2 should be even easier, even for people with limited dexterity.
New Permobil SmartDrive MX2+ Watch Face
SmartDrive now has its own watch face! The watch face can be set as your default screen for when not using the PushTracker E2 to control your SmartDrive and gives you access to quickly open the app from that screen.
---
To make sure your PushTracker E2 received the newest app update, use the following steps:
To open your list of apps, press the Power button.
Tap the Play Store app. If necessary, follow the instructions to connect to Wi-Fi and add a Google Account.
Depending on your version, either swipe down or scroll to the bottom and tap My Apps.
If you see "Updates available," download the one you want, or tap Update all.
Permobil takes providing cutting edge mobility products for our users very seriously, and the PushTracker E2 for SmartDrive is designed to do just that. We hope you find these updates improve your SmartDrive experience. If you have any questions or need some help, feel free to contact our SmartDrive customer support team at (615) 953-5350 / toll-free (800) 637-2980 then hit 2 at the menu.
---
---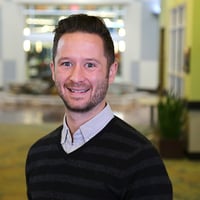 Curtis A. Merring, OTR, MOT
Director of Market Development, Manual Products
Curtis A. Merring, OTR, MOT received both his undergraduate psychology degree and masters in occupational therapy at the University of Pittsburgh. While at university he was involved in research on multiple studies dealing with psychosocial disorders, wheelchair seating, and neurological recovery of the upper extremity for stroke patients. As an occupational therapist and researcher for the past 9 years he was responsible for treating and investigating spinal cord injury and stroke. This included being awarded multiple small grants and coordinating research projects between the clinic and local universities. Curtis has also worked as a Director of Therapy Services in the geriatric setting including opening and managing rehabilitation departments at multiple locations. During his time as a director he developed a program called "Seating System Management in Skilled Nursing Facilities and Long Term Care", that was a continuing education course he taught to facilities in both Texas and California. The goal of the course was to improve the seating systems of a very underserved population. Curtis is currently the Director of Market Development, Manual Products.