Permobil has launched a solutions-based selection tool on their website and new resources for clinics and providers to easily find the right cushions based on individuals' needs.
Nashville, TN, May 20, 2021 – When it comes to choosing a wheelchair cushion, the amount of choices can be overwhelming. Permobil has found a way to simplify the process to help clinicians, ATPs, and users find their optimal seating solutions.
"Permobil offers seating solutions for almost everyone," says Teresa Ellison, director of product marketing for Permobil's seating and positioning segment in the Americas. "Our different cushion mediums include flowing air, foam, non-flowing air, and hybrids. We understand individuals have varying abilities and requirements, so we offer solutions that range from basic to adjustable to custom. On our new website, www.permobil.com, you can focus your search for a cushion based on product features such as skin protection, positioning, medium, and much more, so that you are finding product options that are best suited for your clients."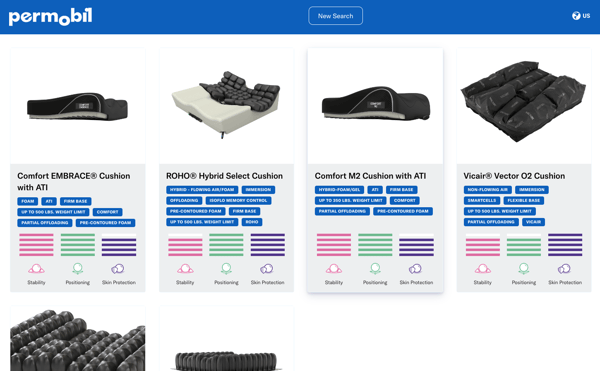 Clinicians and ATPs will now be able to reference a combined brochure from Permobil with cushion products from some of the most trusted names in CRT including ROHO® and Comfort Company. For an even simpler approach, printed posters will be made available through Permobil's sales team to clinics and providers across America for a quick reference guide.
"On the website, brochure, and poster, each Permobil cushion is ranked based on three attributes of great seating: skin & soft tissue protection, positioning, and stability," explains Tricia Garven, regional clinical education manager. "Within the skin protection category, we further focus on the redistribution of pressure through the options of immersion, envelopment, and offloading. Our goal has always been to understand our users' needs and help them live life to the fullest by providing products with optimal skin and soft tissue protection backed by years of clinical testing, as well as options to enhance their positioning and stability."
This new solutions approach has given Permobil the chance to truly compare and thoughtfully present their variety of wheelchair cushions available. "By bringing our portfolios together under one brand, we were able to streamline product offerings as well as the selection process to truly show the quality solutions available for individuals," says Audra Watt, vice president of marketing. "We have taken this approach with our wheelchair back supports too and summarized our varying options in a new brochure available now. We have even more seating and positioning resources planned for later this year to provide support to targeted user groups and products such as: pediatric, long-term care, accessories, and ancillary products."
Learn more about the Attributes of Great Seating here: https://hub.permobil.com/permobil-seating-positioning/
Try the Cushion Selection Tool here: https://smp.permobil.com/cushion-decision-tree
---
---
For more information, please contact:
Sheri-Lynne Ljucovic, marketing communications manager
email: sheri-lynne.ljucovic@permobil.com