Don't give up on your dreams! Not the accident, or COVID, or getting rejected from OT school twice stopped Mildred Trejo (aka Milz). Besides launching a T-shirt company and growing a large following on Instagram, in three years, she will forever be known as Dr. Milz, OT.
---
Where did you go to college and what did you study?
I was doing my prerequisites for nursing when my accident happened in 2014. After my recovery, I went back to school, but I noticed I didn't want to be a nurse now. So, I finished my associate's degree, then I got accepted into the University of Houston. I studied kinesiology with a minor in nutrition and wanted to apply to Occupational Therapy school. I graduated in 2019 and applied to graduate school, but I didn't get accepted. I was very upset and asked myself 'what am I going to do now?'. I applied again in 2020, but COVID was around and again I didn't get in. I decided to take a one-year certification to become a teacher instead, but my sister gave me some tough love telling me that I didn't want to be a teacher, and she inspired me to apply one more time. And I got in! The third time's the charm, I guess.
Sounds like it's pretty competitive - what were you up against?
Over 600 people apply and they interview 150. From that, they only take about 40 people into the course. I did retake a class to bring up my GPA, and then I switched up my personal statement. I do think that my confidence in the interview definitely made a difference too. I wasn't this confident three years ago. I feel like I've grown into myself and my disability. Now I'm in my first year, and as of May 2026, I will be Dr. Milz, OT!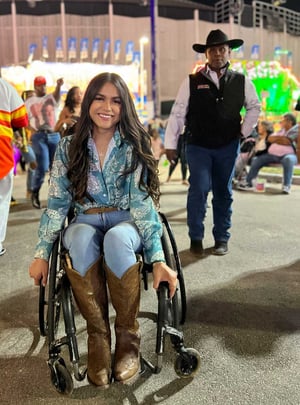 What Permobil products do you use?
I use an Aero Z wheelchair with a SmartDrive. Thanks to my power assist, I can get around campus. Without it, I couldn't have gone back to school independently. It makes all the difference with the steep ramps and older buildings or else I would have really struggled.
You had a scary situation with your chair, but a Good Samaritan helped you. Can you share that story?
There are Good Samaritans in the world – one helped me when I was stranded and it made all the difference. I was just leaving school and headed to my car, but the streets were flooded from a sudden storm and then my backpack string got caught in my axle. I was literally stuck in the middle of the road and couldn't move! No one was helping me until a fellow student stopped to untangle it and got me to my car. One good turn deserves another, so I gave him a drive home and it turns out he lived in my old neighborhood!
You mentioned one sister who inspired you, what was your childhood like?
I was actually the middle of five girls growing up in Houston, TX. We loved going to the beach and playing soccer, and our dad built us a treehouse (just not in a tree). With sisters, we lift each other up but also give each other those hard truths.
Can we talk about your diagnosis and medical history?
I was injured in a car accident and am a C5 quad. The accident happened on my birthday which makes it a bittersweet day every year. I was in rehab for 1.5 months, then went home for the holidays. I went back in January 2015 for the second phase, and then as an outpatient after that. I exercise a lot at home and at the gym, and my older sister helped me a lot. My whole family was a big part of my recovery.
Tell us about your first trip after your accident?
Me and my family are very religious, and there's this big church in Mexico City called La Basilica. I remember praying that if I'm ever able to walk again, I will walk into that church. And I did using my crutches. It was so inspiring, and my mom was taking pictures of the whole thing!
Besides being a full-time student, you have over 50K followers on Instagram – how did that happen and what do you like to post about? @mmmilzzz
It all started because I couldn't hold my phone and text people after my accident. I remember I told my sister, 'Post on my Instagram that I'm OK and didn't die.' It was easier to post on social media to let everyone know what was going on rather than texting everyone individually. I just try to be positive, and real, and make the best out of it. Or I might share 'Hey, I tried this and it makes my life easier'. And I remember watching some girl travelling and we had the same injury, so like why can't I do that too? I just want to inspire people and I'm an open book on social.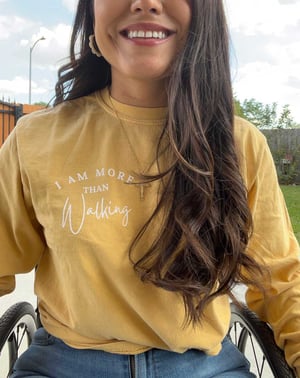 Your Insta mentions you are the founder of @wheeliecoolthings. What's that about?
I started a shirt design company called 'Wheelie Cool Things'. For now, I've only got one shirt with a message on the front and on the back: 'Disabled isn't a bad word', and 'I am more than walking'. It teaches somebody that it's OK to use the word disabled and then I feel like it also empowers the person wearing it.
What is something that most people don't know about you?
I've got pet chickens. We have a hen house in the back and can pick fresh eggs every day!
Rapid Fire Questions:
Favorite place for takeout?
Dish Society, a farm-to-table place here in Houston. Love their Salmon Poke Bowl.
What's your favorite season and why?
My birthday is in the Fall, so that's my favorite. Plus it's not too hot or too cold.
If you could have dinner with one person, dead or alive, who would it be?
My older sister who passed away a year ago. We had a special bond!
What is your favorite movie of all time?
13 going on 30
What was the first concert you went to?
Kid Cudi, a rapper. At my second concert, I met Mac Miller in the VIP area and got my picture with him.
---
---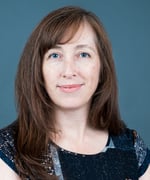 Sheri-Lynne Ljucovic
Marketing Communications Manager
Sheri-Lynne is a communication professional with over 20 years of experience in writing, editing, marketing, and graphic design. She studied Journalism and Corporate Communications and is fondly referred to as Eagle Eyes for her keen proofreading skills. Sheri-Lynne was introduced to the complex rehab industry when she joined Permobil in 2017.