Known as the Wheelchair Whisperer for his vision and expertise for what is possible with manual wheelchairs, Ken Winward has over 22 years of experience working on TiLite chairs. He's responsible for the Creative Mobility Division's custom work, but one of his favorite parts of his job is working the repair booth at Abilities shows that Permobil attends around the USA. Judging from the hugs and greetings he gets from end users, he's their favorite part too!
---
Have you always liked to tinker with things?
Oh yeah. When I was a kid I'd put my hands into stuff I shouldn't have and take them apart. But a lot of the time back then, I couldn't put it back together. In high school I definitely loved welding in shop class – just the possibilities of it. Now I have a fully functioning metal shop in my house!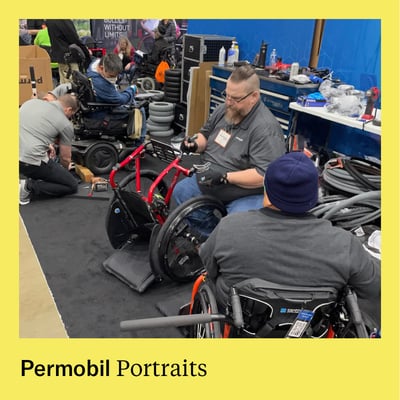 What did you do after high school?
I studied communications at Washington State University, but it just wasn't for me. I was paying for my college running behind a garbage truck and popping into classes. I wanted to do advertising, but I stepped away and eventually got a job with Boeing. To be honest - I thought that was the pinnacle of manufacturing. Until I started doing wheelchairs and found out that wasn't the case. What we're doing here is the pinnacle, in that each one of our chairs has a soul to it. Each chair we do is not for the masses, but for an individual.
How did you end up working on TiLite wheelchairs for all these years?
It was called TiSport back then, and they offered me a job in 2000 as a machinist and quality inspector. It was only half-time and we were just doing a few chairs a day. I got two other job offers at the same time, but they didn't start until later, so I thought I would work for TiSport for a little while and said yes to all three! What made me stay was going to my first end user show. A mom came up to me with her 4.5-year-old and he had been pushed around in a stroller his whole life. The mom said he was going to kindergarten next year and needed a way for him to push himself around. We put him in a little chair called a YR and the mom and I are talking, and we turn around and that kid is gone! The mom is getting panicky and I'm worried that I lost a chair and a kid. We look over and he's just over at the drinking fountain. He took to it like that, and it was the first time that kid had been independent. The mom started crying and it was just beautiful. I still get teary-eyed thinking about it because that's when I was converted to what we do.
Why do they call you the Wheelchair Whisperer?
Technically I'm the Manager of CAD Design. When I'm working on a custom wheelchair, my mind works through the mechanics of the chair and how it will interface with the user. I can just see the opportunities and what's needed. But for more challenging configurations, things often come to me in my sleep like a voice. I keep a little notepad by my bed so I can remember the ideas when I wake up. Keep in mind that I have a team of designers that make these visions become reality. This team has amazing abilities to design and also come up with their own groundbreaking ideas. They impress me every day.
What are you most proud of at work?
Reviving the custom work we're doing under the Creative Mobility Division. I've been saving pictures of things we've done over the years as proof of what is possible and to show the difference it makes in someone's life. And we're going to keep adding to that catalog! I love having a rep, clinician, provider and one of my designers on a call with me and talking through fresh ideas that no one ever thought of before. We have the ability to do all that bending, fabrication, welding and assembly under one roof – and that's what our competition doesn't have. I think that's what my legacy will be and hopefully it will continue on long after I'm gone.
Tell me about the picture of you with a wheelchair on your back while riding a bike.
I had promised to deliver a custom chair one day after work but forgot that I had ridden my bike. So, I strapped the bike to my back, took it home, put it into my car, and made the delivery.
What is something that most people don't know about you?
I taught country dancing for four years – with a cowboy hat and boots and the full getup. That's kind of how I met my wife. I asked her to dance and the rest is history. She's beyond smart and is getting her second Masters right now. We've got a 24-year-old daughter and a 20-year-old son, and I'm so proud of my kids – they are killing it in college. I've loved raising my babies into adults.
Rapid Fire Questions:
What's your favorite season and why?
Summertime makes me feel alive! That's when I get to ride my motorcycle more and I just love it.
If you could have dinner with one person, dead or alive, who would it be?
I miss my grandfather and would love to sit and talk with him. He died when I was in my 20s.
What is your favorite movie of all time?
Cool Hand Luke! Redford showed some amazing acting, plus played the banjo and sang. I like that he was a rebel and died doing what he liked.
Are you a dog or cat person?
I'm a cat dad. We got Lola from a shelter. She walked up to me and asked me to dance, and I said 'Sure, come here sweetie'. When I'm on a trip my wife will FaceTime me and say: 'Talk to the cat because she misses you!'.
---
---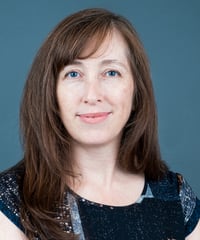 Sheri-Lynne Ljucovic
Marketing Communications Manager
Sheri-Lynne is a communication professional with over 20 years of experience in writing, editing, marketing, and graphic design. She studied Journalism and Corporate Communications and is fondly referred to as Eagle Eyes for her keen proofreading skills. Sheri-Lynne was introduced to the complex rehab industry when she joined Permobil in 2017.