Getting a free water bottle from a military recruiter turned into a life-changing path for Corey Lee (aka Pheez). Now this paralyzed veteran is using his life-long love of music to honor God and be a mentor to others with spinal cord injuries. We're honored to have Pheez share his story from his days as a teenage rapper, to his accident while serving in the Navy, and his sweet journey to becoming a loving husband and dad.

---
What were some of your fondest memories from childhood?

I had the opportunity to grow up in a really cool era, partially in the 80's and in the 90's with all of those feel-good television shows. I grew up in Hartford, CT and lived in a neighborhood filled with kids. We were always going to friends' houses and playing basketball. I was one of those energetic, hyperactive kids. People would always say "Corey, go do a back flip off that fence" and I'd do it! I jokingly say I should have broken my neck way earlier in my life, because I was always tumbling and running off walls. You name it, I did it!
My childhood was pretty cool! I am one of five siblings but grew up as the only child in my household. I'm my mother's only child, but on my dad's side I have an older brother, younger brother, and two younger sisters. Being raised in an only child household, I think you grow up faster than in a household with siblings. You can't lie about things you did that got you in trouble, because there's no one else to put the blame on. You can't pivot or anything of that nature – it is what it is. I think that's carried over into my adult life, because I am very frank and have a low tolerance for nonsense or excuses. And I know my injury has exacerbated that in me.
How has your music evolved over time?

I'm an avid fan of 1990's hip hop legends like Snoop Dogg, Wu Tang Clan, and Nas. I wrote my first rhyme and started rapping when I was 12. A group of friends and I created a team of rappers we called "Kar-nIggy" (pronounced Carnegie). As kids our dreams were to blow up, so we worked hard and saw some local success. But you know those dreams were short lived. Once we graduated high school, everybody kind of dispersed and went our separate ways. I continued to rap while in the Navy, but after I got hurt in June 2005, I stopped rapping for a minute.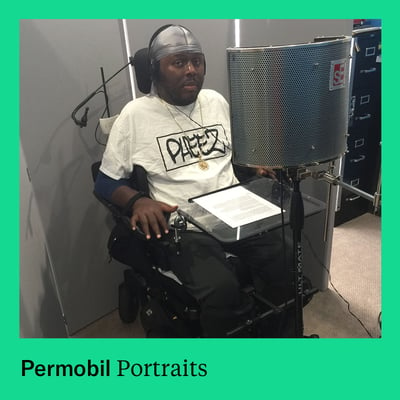 Corey "Pheez" Lee
Permobil F5 Corpus VS, ROHO Single Compartment Cushion with SmartCheck, mo-vis Multi Joystick
I think in 2015 or so I thought to myself, I can't rap about cars, money, and women anymore, because you can't drive, and you're married now. So, I decided to take a different path. I wanted to honor God through my music. In addition to writing all of my music, I began producing most of it too. After I dropped one album, I decided in 2018 (13 years after the accident) to do a project that revolved around my injury which was called "13th year". I want to show that 13 isn't always unlucky. So much had happened within the years since I was injured. Each song on the album corresponds with a different year.
The last album I did, "Head Above Water" came out in 2022 and is about the glass being half full or half empty. When you look at the cover, it's kind of subtle, but everything has an optimistic/ pessimistic kind of tone. You see the ship, my body, and my sea bag are halfway out of the water. It shows that my career in the Navy was over, but I still had a career elsewhere.
---
Check out Pheez's music and follow him on social media here.
Join us next week when we'll hear about a premonition Pheez had about becoming paralyzed while serving in the Navy, and the accident he shouldn't have survived.
---
---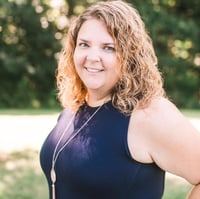 Angie Kiger, M.Ed., CTRS, ATP/SMS
Portfolio Marketing Manager
Angie Kiger, M.Ed., CTRS, ATP/SMS earned a Master of Education degree in Assistive Technology from George Mason University. She is an Assistive Technology Professional (ATP), Seating and Mobility Specialist (SMS), and a Certified Therapeutic Recreation Specialist (CTRS). Angie has over 20 years of experience working in the field of assistive technology serving infants, children, and adults in inpatient, outpatient, school, and community settings with a variety of diagnoses. In addition to working as a clinician, Angie has served as an adjunct instructor at George Mason University and presented hundreds of clinical education trainings both in-person and virtually for global audiences. She has written articles for trade publications and been involved in clinical research. Angie is a member of and serves on the executive board for the nationwide advocacy group The Clinician Task Force. She joined Permobil Americas in mid-2022.