Last week, we shared the first half of Caroline Pennell's story from her early childhood up to her diagnosis. Today, we're continuing with Caroline Pennell's story.
---
What was the turning point for you with your diagnosis?
When I was in the 6th grade around the age of 12 or 13, I was reluctantly taken to visit a Muscular Dystrophy Association (MDA) summer camp in Wakefield, VA. I say reluctantly because I was still in that mindset of, "I don't want to be around kids who have this disease. I don't want to see it. I don't want to know what my future could look like." I remember sitting with my mom and dad in the back corner of a room at the camp. It was a lot to take in. Nobody was really talking to us. Then, this guy with a bald head and handlebar mustache wearing a tie-dye shirt and cargo shorts walked over to us to ask us why we were sitting in the corner. Turns out he was a firefighter who volunteered at the camp the entire week every year. He became involved with the organization by helping with the annual Fill-the-Boot campaign put on by the International Association of Fire Fighters (IAFF) to raise money for the MDA.
For some reason, this firefighter/volunteer just immediately took me in under his wing. He told me I was not going to feel sorry for myself. Instead, he was going to make sure I was part of everything and ensure that I loved it. He totally changed everything for me. I was shy at that point, but he was just so goofy, fun, and open. He had a dry sense of humor like mine. I remember thinking "I like this guy. I'm gonna hang with this guy. This guy makes me feel normal."
From that point forward. I did all things MDA. I dove in headfirst. I did Fill-the-Boot for Richmond. I was their Goodwill Ambassador for about 15 years, visiting their stations every summer to share my story and get them hyped up for Fill-the-Boot. I became pretty good friends with a few of them. It was great to have the opportunity to advocate for other families who had muscular dystrophy and be able to put a face to the disease— I think it's important to have that human connection when you ask people to fundraise. I have also been the guest speaker at numerous MDA Gala's, and also got asked to emcee one year. I still do stuff for MDA every so often.
What was high school like for you?
When I was in 8th grade, we finally ordered my first power wheelchair. I remember thinking I was not going to use it except to occasionally walk the dogs at home. That's it. Then, I used it that summer for an entire week at MDA camp and it was life changing. I was like, "This is freaking sweet. I can do everything! I can keep up with everyone. I love it." I distinctly remember constantly thinking, "What the heck have I been so afraid of?" I used it the rest of the summer and it was awesome!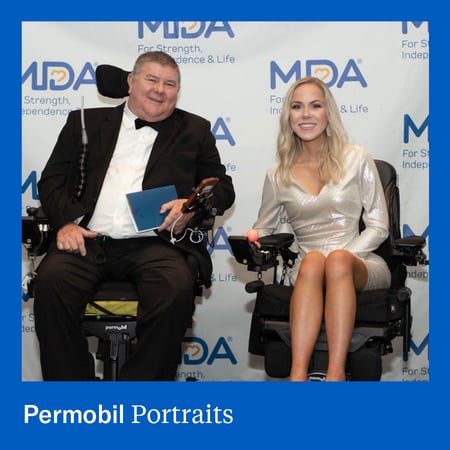 That same summer something really cool happened, I got asked to go on the national MDA telethon which was filmed live in Las Vegas with Jerry Lewis. Before the live show they sent out a professional film crew to film my whole family to be aired during the telethon. I ended up being on live television during the telethon with Jerry two times. One of the times he called me Carolyn, so I corrected him by telling him my name was Caroline. Jerry also said something about how thankful they were to have me there and how they were happier to have me there than I was to be there. And I responded with "You wanna bet?" My dad was in the corner mortified that I corrected Jerry Lewis on live television and said that, but everyone in the crowd was laughing. It was a very cool experience!
Because the MDA telethon was always held over Labor Day weekend, I ended up missing my first day of high school. Once we got back home, I had this moment when I realized I was going to have to bring my power wheelchair to school, because by that point I had become dependent on it. I mean, I was still able to walk some, but my balance was trash. I was also probably walking a lot longer than I should have. It was unsafe for me to walk, very unsafe. I remember crying in the shower and thinking "I am going to have to go to school in this power wheelchair after hiding this disease from these people for years." Thank God my brother was a senior when I was a freshman. He walked in with me on my first day. For me, that day was like one of those dreams you have where you walk into a room naked and everyone is just staring at you. Except it wasn't a dream. And I wasn't naked. Everyone was just staring at me because I was now in a power wheelchair. Some of the stuff that was said hurt to hear. But I felt like at that point, I was stronger than I had been. This disease is what God gave me and I am fine with cards he dealt me in both my head and my heart.
What happened after high school and what are you up to now?
When I decided to go to college, I started out as a studio art major at community college. Then I transferred to a university that had online programs where I started out majoring in psychology. About halfway through earning my psychology degree I realized how many additional years of school I would need and decided to switch my major to something more versatile. I earned my degree in business administration with a focus on leadership and a minor in psychology.
After I graduated from college, I really didn't know what I wanted to do. Then as luck would have it, the next door neighbor at my family's river house happened to know the marketing firm that she used to promote her private dental practice was hiring. My neighbor referred me, and I got the job! I really like my job. The company is great and I am able to be creative! They are flexible and very understanding of my medical needs.
What are you passionate about?
I'm passionate about the ocean. It seems like all my favorite things, places and memories are tied to a body of saltwater. Nothing excites me more than beachcombing on the weekends and uncovering the treasures washed ashore — especially shark teeth, seaglass and the occasional arrowhead. But don't get me wrong, I love the "offshore" treasures just as much— from growing my own oysters to crabbing and fishing. That's one of the many reasons why I find ocean cleanup so vital. I want future generations to be able to experience the same simple joys and beauty of marine life.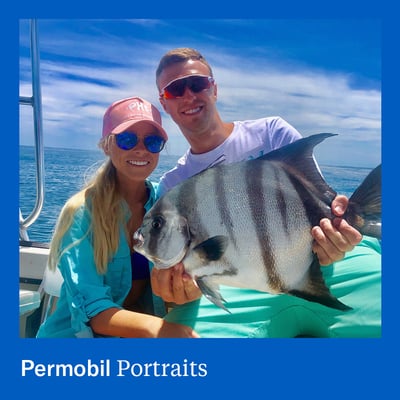 How long have you been using a Permobil power wheelchair?
I started using a power wheelchair in 2009. However, my first Permobil wheelchair was in 2013 (it was my second wheelchair) and it was a C300. It was a big upgrade for me because it had all the bells and whistles! Being able to recline and tilt back was amazing for pressure relief (and sunbathing in the summer lol). And the ability to raise my chair up to bar height/eye level with people not only made me feel like part of the crowd again, but it also helped me physically reach things I was otherwise unable to. Those features hooked me on Permobil! I am excited to be getting my new Permobil wheelchair soon. I was recently evaluated for it and now we are waiting for it to go through the funding process.
Rapid Fire Questions:
What is your place to get take-out from?
Lately, it's been Crumbl Cookies. But I rarely turn down Chipotle.
What's your favorite season?
Summer. I worship the sun!
If you could have dinner with one person, dead or alive, who would it be and why?My Grandfather on my dad's side. He passed away a few years before I was born and I've always wanted to meet him.
What was the first concert you went to?
Hilary Duff. But I have seen a lot of concerts since then haha. My favorite country artist I've seen in concert is probably Eric Church.
---
We hope you enjoyed Caroline Pennell's story as she shared her background and her current passion of beachcombing on the weekends and uncovering the treasures washed ashore.
---
---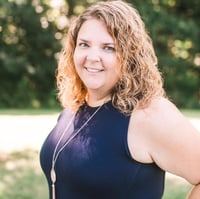 Angie Kiger, M.Ed., CTRS, ATP/SMS
Portfolio Marketing Manager
Angie Kiger, M.Ed., CTRS, ATP/SMS earned a Master of Education degree in Assistive Technology from George Mason University. She is an Assistive Technology Professional (ATP), Seating and Mobility Specialist (SMS), and a Certified Therapeutic Recreation Specialist (CTRS). Angie has over 20 years of experience working in the field of assistive technology serving infants, children, and adults in inpatient, outpatient, school, and community settings with a variety of diagnoses. In addition to working as a clinician, Angie has served as an adjunct instructor at George Mason University and presented hundreds of clinical education trainings both in-person and virtually for global audiences. She has written articles for trade publications and been involved in clinical research. Angie is a member of and serves on the executive board for the nationwide advocacy group The Clinician Task Force. She joined Permobil Americas in mid-2022.