It wasn't a disease or accident that took away Bobby Brown's mobility at age 15 – it was a stray bullet from a drive-by shooting. But that shot didn't make him lose his spark and determination, or the smile that truly lights up his face.
Robert "Bobby" Brown, III was brought up in a family that places a high value on service to God and the community. Now, as a clinical psychologist and social activist, he has found healing with laughter and by helping others.
---
Tell us about your childhood.
I was raised in Minneapolis, Minnesota and we had tons of family members around. Our mom kept us in church and raised us to respect ourselves and others.
As a kid, I also loved playing sports. I was into football, basketball, and wrestling. I could have had my college paid for with football.
What did want to do for a career?
I wanted to be a youth pastor and work with kids. Friends used to always call me up to talk, and even some of my mom's friends too. I've always been a good listener and I like to crack a lot of jokes. I find laughter is healing.
Psychology was something I was intrigued by and being able to help provide guidance to others. Now I'm a clinical psychologist and have worked at a non-profit organization, a juvenile correction facility, done in-school therapy with junior high kids and their families, and currently work at a medical clinic.
You lost your mobility at just 15 – please share what happened.
My sister, LaVonne, and I were the innocent victims of a drive-by shooting intended for someone else. It was July 15, 1997, and I was headed into grade 10. We were in front of my aunt's house and just getting in the car when it happened. I knew I was shot – the shock and adrenaline kicked in – and it was extremely painful. A bullet doesn't just stop. It ricocheted off my spine, bounced through my lungs, and wedged in my chest. I sustained a spinal cord injury that paralyzed me from the waist down. This happened in the summer, and I only missed a month of school. I was extremely determined to get back to my life. I wanted to live and be happy.
Tell us about your Foundation.
While I was in the hospital recovering from the incident, I had a dream. I was working with youth to share what had happened to my family and to help prevent tragedies with gunfire. Fast forward six months later and my mom and I were talking about what happened. The first anniversary of the shooting was coming up and I had done some public speaking. We knew we just had to reach out and get people to go beyond their circumstances - to look at who they are and see their potential.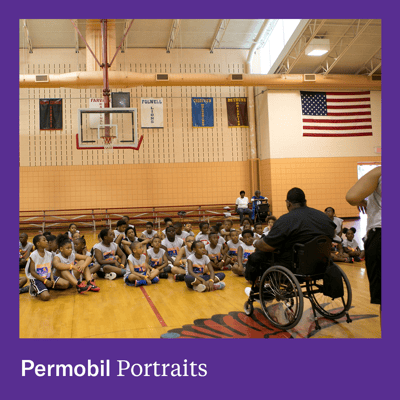 We put together a basketball clinic and had guest speakers, we talked about trauma and got funding. We had over 100 kids come out and it was such a healing moment for our family. We wanted to do more. It inspired us to start a non-profit foundation a year after the incident called Bobby Brown's Beyond the Court Violence Prevention Initiatives. The aim is to raise awareness about the effects of violence, heal communities, and help families deal with trauma. The foundation runs youth basketball clinics, luncheons, and other activities to start the healing process. We've reached thousands of youth in the last 25 years!
Through your volunteer work, have you met anyone famous?
I've actually met a ton of famous people! I was a speaker at the Million Mom March held in Washington D.C in 2000 and met Reese Witherspoon while I was backstage. It was the largest protest against gun violence in U.S. history. I also met the Clintons at the White House. And I met Little Richard – he is my most favorite celebrity that I've met! Not only for his music, but how he started a lot of careers, and he himself is just so inviting.
What did you pursue after high school?
A lot of people doubted I would achieve anything after such a horrific incident, but I graduated with my class at Benilde-St. Margaret's High School, and then went to Augsburg College and obtained two degrees: Management Information Systems and Business Administration. After that, I got a master's degree in psychology from the University of St. Thomas – it was a two-year program and I finished it in 1.5 years.
Who are you outside of work?
I met my wife in college and we've been together for 20 years! Andrea was smiling at me and that was it. We've been married for 11 years and we had a COVID baby, little Braxton Brielle, who's three years old now. She just loves to play with my ROHO pump – I can't stand it! I've woken up with it up my nose and for her, it's a toy. She tells me: "We share this one, daddy." I've got to keep it handy and she loves to mess around with it. Braxton even knows how to unscrew the valve and loves to play with my cushion. She will let the air out and next time I'm sitting in it, it doesn't feel right!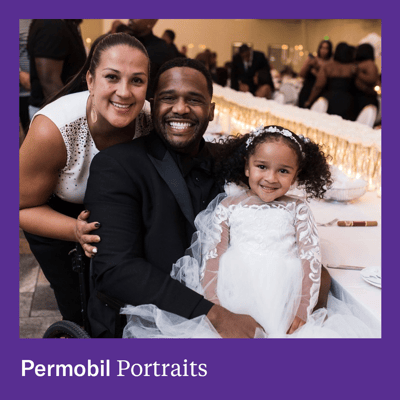 Tell us something people would be surprised to know about you?
People would be surprised to know I'm actually a shy person. I'd be fine just being in the background, but that is not the path I'm on.
As I kid, I also wanted to be a model. Now I've done a ROHO photoshoot with Permobil and seen my pictures in a magazine and on social media. I've also been on the Wheelchair Nerds podcast talking about cushion selection.
What are you most proud of?
In 2016, I had a little scratch that didn't want to heal. It became a pressure injury and it was a long and painful process to recover from it. I even missed eight months of work. Afterwards, I changed my eating habits, listened to my body, and focused on working out. I'm literally half the man I used to be – in four years I've lost 200 lb!
Rapid Fire Questions:
Favorite indulgence?
Ben & Jerry's ice cream – any flavor!
What season do you like best and why?
Summer! I want the heat and love to be outside and getting extra sunlight.
If you could have dinner with one person, dead or alive, who would it be?
Stevie Wonder. I just love his music and that was the first person that popped into my head.
What is your favorite movie of all time?
Can't pick just one. My top three are: The Color Purple, Shawshank Redemption, and The Goonies.
What Permobil products do you use?
I've had my Hybrid Select cushion for a few years and I just got a TiLite TRA and a SmartDrive in August. After pushing my chair for over 25 years, once I saw the SmartDrive in action, I was like "oh yeah, I need that!".
---
---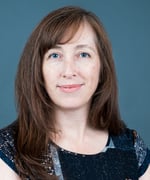 Sheri-Lynne Ljucovic
Marketing Communications Manager
Sheri-Lynne is a communication professional with over 20 years of experience in writing, editing, marketing, and graphic design. She studied Journalism and Corporate Communications and is fondly referred to as Eagle Eyes for her keen proofreading skills. Sheri-Lynne was introduced to the complex rehab industry when she joined Permobil in 2017.