How many of us actually followed the advice of our high school career aptitude test? Thanks to this early intervention, Ashley Detterbeck embarked on a successful career as a physical therapist and is now sharing her knowledge and experiences as one of Permobil's clinical educators. Read on to learn more about Ashley and how she helps therapists and clients every day.
A physical therapist originally from the Upper Peninsula of Michigan who has resided in Central Wisconsin for almost 20 years, Ashley joined the Permobil family in May 2017 as a Regional Clinical Education Manager. Her academic history includes earning a bachelor's degree and master's degree in Physical Therapy from the College of St. Scholastica, followed by a Doctor of Physical Therapy degree from the University of Minnesota. She is active in professional organizations, has been published alongside a team of colleagues for their research in peer-reviewed journals, and advocated on behalf of her many clients for improved access to life-changing complex rehabilitation technology (CRT).
There is no denying that Ashley has accomplished a great deal up to this point in her career and is an asset not only to the Permobil family, but also the clients she serves and the CRT industry as whole. However, those accomplishments do not paint a complete portrait of her. She is also a loving mother to a wonderful daughter, a supportive partner to her significant other, and a fantastic sister and friend who is always ready to bring smiles to people's faces.
To get to know Ashley even better, we asked her to share more of her story.
---
When and why did you decide to become a physical therapist?
"For as long as I can remember, I grew up wanting to be an equine veterinarian. But my freshman year of high school I was required to take a career aptitude test and complete a report on one of the options recommended for me. Physical therapist (PT) was one of the careers listed in my test results. As I dug deeper and did a bit more research, I realized PT was something that made sense in my brain for what I wanted to do. By the time I was a senior in high school, I was working as an aide in a local PT department. That job solidified my desire to become a PT."
What was your first job out of PT school?
"My first job out of PT school was with the Marshfield Clinic. I got hired as a new grad in the PT department originally with orthopedics and sports medicine. As the major regional medical center in my area, the population of clients we saw was very diverse in diagnoses and age. I had the opportunity to treat pediatric clients all the way up to geriatric ones. It gave me the opportunity to see diseases that were a little out of the ordinary and different than what I might have seen in a more standard outpatient physical therapy department."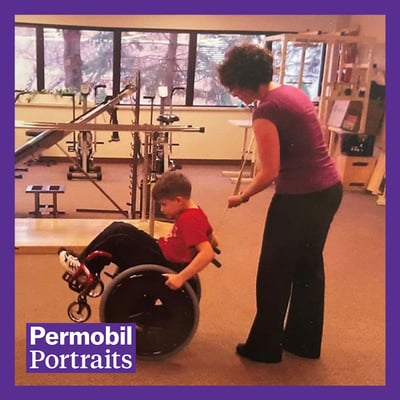 Who do you consider as your biggest influence professionally?
"My biggest professional influence and mentor is the person that hired me originally at the Marshfield Clinic, Sara Smiley, PT, ATP/SMS. She saw something in me that I really didn't know was there and led me to take my career in direction I never knew was an option for me.
When I left PT school, I was gung-ho that I was going to be an orthopedic sports medicine therapist. Sara quickly noticed that wasn't where my brain really was going. She challenged me to think outside of that realm of physical therapy and introduced me to wheelchairs and seating my first year working with her. She taught me how to really navigate this world of wheelchairs and seating and firmly believed that I was capable of doing great things with them. Sara is the person I credit with guiding me down the path I was meant to go down. I am forever in debt to her for saying 'Hey, Ashley, I think you might want to do this instead.' To this day when working with a client, I find myself wondering if this is what Sara would recommend."
Tell me about the first client for whom you recommended a power wheelchair with standing.
"Oh, my gosh, that was many, many years ago! He was a younger guy who had sustained a stroke following a traumatic brain injury that was the result of slipping and falling. He really wanted to go back to work and asked me if it would be an option for him. I was a young and kind of naïve therapist at that point. So, we were truly going down this new path together.
I remember the first time he tried using a power wheelchair with standing. We had been working with him on standing in the clinic with a static stander, but it was so amazing to see him moving around the evaluation room while in standing. I fought really hard and ultimately, we were able to get him his own power wheelchair with standing. I remember thinking, wow this really is possible, and I can help my clients do this. It was such an eye-opening experience from start to finish."
What made you want to transition from working in a clinic into working for Permobil?
"I remember sitting in a continuing education course early on and thinking that one day I wanted to teach others about wheelchairs and seating. But I needed to get a lot more in-depth with my own education and more experience first.
Several years later I hit a point in my career and personal life when I just knew it was time to do something different. I wanted to transition from being a big fish in a little pond to a little fish in a big pond. I wanted to explore all the other things that were out there and really get a better understanding of different sides of the CRT industry.
Once I knew I was ready to make that change, I had a conversation with a very dear friend of mine who worked for Permobil. He asked if I would ever consider working in an education role at the wheelchair manufacturer. Thinking back to the idea of one day becoming a clinical educator I had all of those years ago, I jumped at the chance and the rest is history. I've been with Permobil almost six years and I love every aspect of it!"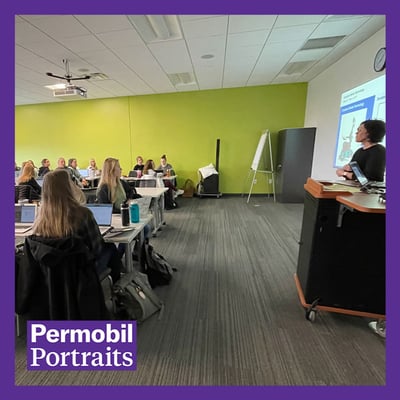 What are three things you hope participants leave your training sessions with?
"Number one, I hope they can bring something back to their job and clients that they can immediately begin using and is impactful.
Secondly, I want participants to leave with resources they can refer to and people they can reach out to later that can help them navigate challenging circumstances down the line.
And finally, I hope I provide participants with information that will have a positive impact on the clients they work with for years to come. Something that truly sticks with them."
How did advocating for access to the standing function on power wheelchairs become your passion project?
"Prior to joining Permobil, I dabbled in advocacy by fighting for funding of equipment in support of my clients. Unfortunately, securing funding for standing on a power wheelchair has always been difficult. Primarily because, even though the evidence clearly states that it is, standing is not considered to be medically necessary by the Centers for Medicare & Medicaid Services (CMS).
When I transitioned into my role at Permobil in clinical education, I was lucky enough to cover an area of the country where they are huge supporters of standing. It opened my eyes to what was possible. As time went on, more opportunities and more doors opened for me to dive deeper into standing and understanding it on a totally different level. The standing feature on power wheelchairs is NOT a luxury, it is a life-changing medical necessity for the individuals who are able to utilize it.
I've been very lucky to be part of some amazing groups with the research that I've done with Permobil on the topic of standing. In addition, I have been involved in the ongoing battle to change CMS's policy on covering standing on power wheelchair as a member of industry-wide committees. Participating in advocacy initiatives, including meeting with the offices for my members of the United States Congress, is another example of something that might seem intimidating at first, but can have a tremendous impact on the lives our clients, friends, and family members who use CRT.
Speaking of advocacy, be sure to check-out our Advocate for More page. Hahahaha…shameless and important plug for that resource!"
What do you wish more clinicians knew about standing in relation to power wheelchairs?
"I wish more clinicians knew standing isn't as scary as they may perceive. Even though this technology has been around for decades, it is very common that I meet clinicians who are intimidated by the idea of recommending a power wheelchair with standing and do not even know where to start. I want to impress upon these therapists that Permobil is here to support them with education and resources every single step of the way.
One of the things that I love the most about my job is every single day is completely different, especially given that I get to travel throughout the Midwest and, at times, the entire country. There are always different people I am meeting and technologies I get the opportunity to teach people about.
The Permobil team has developed so many resources to support therapists and CRT professionals with learning about topics such as standing. One of our newer ones is the Permobil Power Standing Training. This in-depth, yet easy-to-follow training walks participants through concepts including why standing is beneficial, why they should consider standing for their clients, recommendations for improving outcomes from start to finish, instructions on setting up a Permobil power wheelchair with standing for client, and a guide for programming the wheelchair to do what is needed for individual clients.
There's a ton of different resource that are already out there and we're constantly creating new resources to benefit the clients we serve and the CRT industry."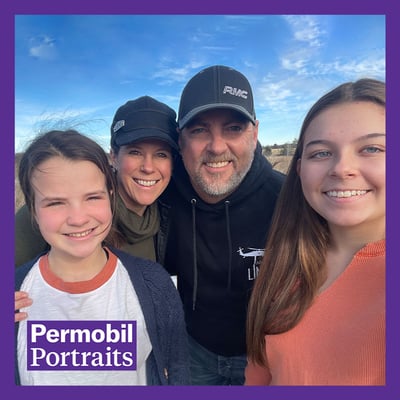 What would your family and friends expect you to bring to a potluck dinner?
Hands down, people expect me to bring a charcuterie board! I live in Wisconsin, the land of cheeses.
I have all sorts of cheese varieties at my fingertips at various stores, so a few years ago I made a charcuterie board for my sister's baby shower on a whim. Now I cannot show up to a family function or any other gathering without making a charcuterie board. It's even gotten to the point that I have fancy boards and all the little knives and fancy stuff that goes with it.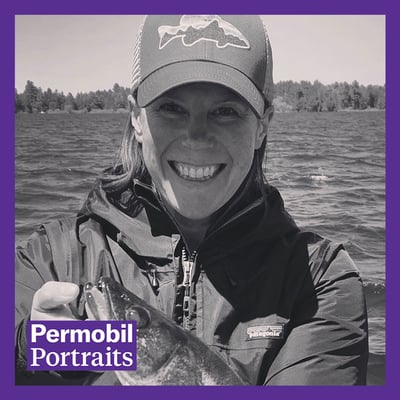 Where do you go to turn off and to relax?
Anywhere there is water! I grew up in the Upper Peninsula of Michigan on a lake and water is just something I've always been very drawn to. In the summer, we spend a lot of time on our boat, fishing and just being out on the water. The water is where I feel the most at ease.
---
Permobil Portraits: individual stories worth sharing! Thank you for sharing your story, Ashley.
---
---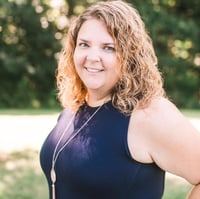 Angie Kiger, M.Ed., CTRS, ATP/SMS
Portfolio Marketing Manager
Angie Kiger, M.Ed., CTRS, ATP/SMS earned a Master of Education degree in Assistive Technology from George Mason University. She is an Assistive Technology Professional (ATP), Seating and Mobility Specialist (SMS), and a Certified Therapeutic Recreation Specialist (CTRS). Angie has over 20 years of experience working in the field of assistive technology serving infants, children, and adults in inpatient, outpatient, school, and community settings with a variety of diagnoses. In addition to working as a clinician, Angie has served as an adjunct instructor at George Mason University and presented hundreds of clinical education trainings both in-person and virtually for global audiences. She has written articles for trade publications and been involved in clinical research. Angie is a member of and serves on the executive board for the nationwide advocacy group The Clinician Task Force. She joined Permobil Americas in mid-2022.