Meet Anton Danielsson, the mastermind behind chassis development at Permobil. Not only does Anton thrive on leading innovation and development work as an engineer, but he also channels his creative energy outside of work with sewing, woodworking, and welding projects. He's a true creator at heart.
---
What was your childhood like?
I grew up just a few minutes from the Permobil office here in Timrå, Sweden and have lived here most of my life except when I moved away to complete my studies. I have one brother who is two years older than me who also works in design engineering but for another company in the area.
When we were younger there was quite a lot of bike riding happening. It feels like I rode a mountain bike more than I walked. In fact, it would not be an overstatement to say that I've ridden almost all the trails in the forests of this area on my bike. When I wasn't riding a bike, I was tinkering away by myself, making things out of all kinds of materials. I was one of those kids who took everything apart, but I didn't always manage to put it back together the exact same way. I was always very eager to improve, repair, or look inside something to see how it works. I guess I haven't changed much in that sense.
Where did you go to college, what did you study, and what are some fun memories from that time in your life?
It always felt as if I wanted to work with technology in some way. Straight after completing gymnasium (term used to describe the last three years of upper secondary school in Sweden) I first went north to Umeå University to study for a master's degree in UX (User experience). That degree included a lot of digital service development, both backend (coding) and front-end (appearance). UX was interesting and I am glad I spent time there, but I quickly began missing working with physical objects so after a year I moved even further north to Luleå University of Technology where I earned a master's degree in industrial design engineering.
My time at university was quite a lot of fun! In Luleå each year they will plow ice roads out in the archipelago. Miles after miles of roads, which means you can go ice skating or drive your car on the ocean between islands. I remember distinctly this one sunny winter's day when me and a friend were out there drifting between islands. We also brought a snowmobile that I'd built and were just racing around doing laps around each other, getting stuck in snowdrifts and what not.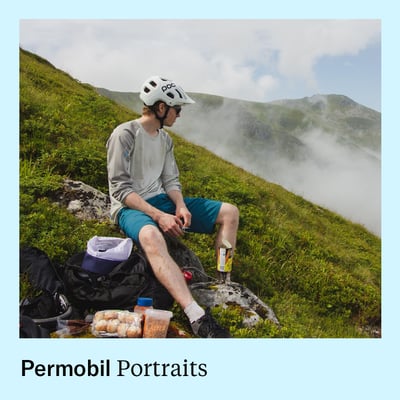 How did you end up working for Permobil?
Permobil has always been there in my peripheral vision since I grew up close by. During high school I did a project where I created a description of Permobil as a company. I interviewed some people here, did some research, and I presented that for my project. It probably wasn't until I started university that I began to look more seriously at Permobil in terms of what kind of products it did, and careers would be available to me.
Then I worked in the customization department a few times during the summer breaks while I did my masters. Besides learning a lot of fabrication skills from my colleagues there I also really grew to like the products; they really are small vehicles with everything that entails. Electronics, ergonomics, mechanics, aesthetics, vehicle dynamics etc. At the end of my studies, I was asked to do my master's thesis at Permobil, where a friend and I developed a concept for a new offroad wheelchair. When I did that, I noticed that working at Permobil, you felt as if you weren't just a small cog in a large machinery. It really felt like a small company where you could talk to anyone and actually make an impact if you wanted. And on top of that, you get to work with interesting products that serve a great purpose, which kind of sealed the deal.
What does your current job entail?
Everything from leading innovation and development work, facilitating and participating in different workshops, coordinating activities within the team. I also spend a lot of time developing processes, improving not only the what but also the how. The days just fly by, but a nice average week would consist of both innovation work, brainstorming ideas and solutions to different problems or product requests and working on some physical prototypes. Then also quite a few meetings about our processes and how we can improve our way of working.
What are some of the projects you've worked on while at Permobil?
When I first joined, I got to work on the current M3 and M5 products. Back then everything was quite new because it was my first job and the first project, I got to develop from the very early stages to implementation to release of the product. It was really fun! I was the design engineer for that project. I mainly did development on the swing arm system and the suspension system on those two products.
Most recently I have been the lead and heavily involved with the design of the M Corpus VS as well. It was mainly another colleague and me working on that project.
Getting to work with product development, especially innovation and concept development, really excites me. I get really inspired while working in the early stages of concept work.
Who is Anton outside of work?
My biggest passions outside of work involve making stuff. Whether that involves sewing, welding, sketching, woodworking, or something else doesn't really matter, as long as I get to create with my hands, I'm enjoying it. When I'm not making stuff I spend my time mountain biking, hiking, skiing, camping, cooking, and road tripping - often in combination with each other. I love being in the mountains or in nature, regardless of the season.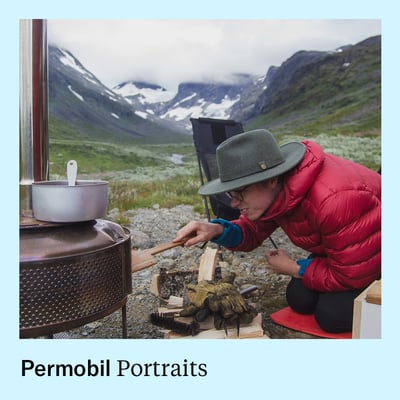 Rapid Fire Questions:
What is your place to get take-out from?
I never miss an opportunity to eat at the Italian restaurant Gusto when I pass through Östersund.
What's your favorite season?
Spring wintertime (March-April), the unofficial fifth season, when there is still snow left and the days are sunny and long again after a dark winter. Perfect time for skiing, snowmobiling or just being outside!
If you could have dinner with one person, dead or alive, who would it be and why?
I was kind of thinking I would wait until I'm on my deathbed and then I'd have dinner with someone from the future that had not been born yet. It would be really interesting to hear from someone who is from the future and find out how things are after I am gone.
What was the first concert you went to?
Not the first one, but a memorable one was when me and my best friend had just gotten our driving licenses. We were hanging out at his place a Friday night and we found out our favorite artist at the time was playing in Oslo, Norway the next day. High on the possibilities of a license we jumped into his car before sunrise and drove the roughly 10 hours and arrived just in time to get tickets. That was Mark Knopfler, famous from Dire Straits, and it was a great concert!
---
---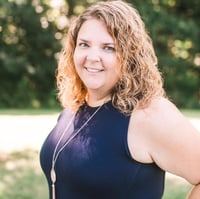 Angie Kiger, M.Ed., CTRS, ATP/SMS
Portfolio Marketing Manager
Angie Kiger, M.Ed., CTRS, ATP/SMS earned a Master of Education degree in Assistive Technology from George Mason University. She is an Assistive Technology Professional (ATP), Seating and Mobility Specialist (SMS), and a Certified Therapeutic Recreation Specialist (CTRS). Angie has over 20 years of experience working in the field of assistive technology serving infants, children, and adults in inpatient, outpatient, school, and community settings with a variety of diagnoses. In addition to working as a clinician, Angie has served as an adjunct instructor at George Mason University and presented hundreds of clinical education trainings both in-person and virtually for global audiences. She has written articles for trade publications and been involved in clinical research. Angie is a member of and serves on the executive board for the nationwide advocacy group The Clinician Task Force. She joined Permobil Americas in mid-2022.