I work with an amazing group of people. When you spend a significant portion of your life dedicated to your career

—

it is important to believe in the company you work for, what you do, and in the people you do it with. You may be thinking, that's very true and nice, but what does this have to do with LUCI?
Both Permobil and LUCI were founded for similar reasons—out of a passion to find mobility solutions as well as a belief that achieving the greatest possible level of independence is a basic human right. Permobil's story started over 50 years ago when a Swedish physician, Per Uddén, set out to create a power wheelchair that worked well both indoors and outdoors, and we've been innovating ever since.
LUCI's story started several years ago with a little girl named Katherine and the need for a technology to keep her safe while exploring in her power wheelchair. Luckily for Katherine, her father and uncle went to work creating exactly what she needed. The result? An innovative smart wheelchair technology, that when paired with a power wheelchair, results in an enhanced mobility platform that provides:
Collision avoidance

Drop-off protection

Anti-tip protection
So, what does that mean day to day for a wheelchair rider? It means less worrying and more doing. It means driving into a crowded room with confidence, taking the path less travelled, and accepting the invitation to a friend's house even though there may be a few tight corners to navigate. LUCI uses a patented sensor-fusion technology, combining data from cameras, ultrasonics, and radar into a single 360-degree view of the world. This allows LUCI to smoothly slow and stop the power wheelchair before hitting an obstacle or going off a curb.
Permobil has partnered with LUCI to be the exclusive representation for LUCI within Veteran Affairs clinics across the United States. We work hard daily, at every level of our company, to ensure veterans can achieve their goals by providing them with the latest advancements in mobility. Our recent partnership with LUCI is one more example of this ongoing commitment.
So, what about that amazing group of people I mentioned? Join us next time to learn about a few of them, their relationship with the VA, and how they live the Permobil mission while serving our veterans.
Are you a veteran yourself, or a therapist who works with veterans and are interested in learning more? Contact your Permobil representative today and consider registering for our webinar Permobil + LUCI: Improving Veterans Lives Through Advanced Technologies on Wednesday, March 10th.
---
---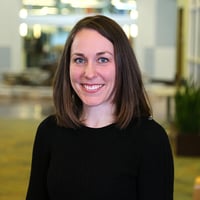 Angela Regier, OTD, OTR/L, ATP/SMS
Senior Portfolio Marketing Manager, Power Products
Angela Regier received both her undergraduate health sciences degree and Doctor of Occupational Therapy from Creighton University and is a RESNA-certified Assistive Technology Professional (ATP) and Seating and Mobility Specialist (SMS). She has focused her career on neurorehabilitation, both inpatient and outpatient settings, specializing in wheelchair seating and mobility. She has published and speaks on the topic of seating and mobility for acquired brain injury and spinal cord injury. She is passionate about the importance of clinicians being actively involved in the provision of complex rehab technologies in order to maximize independent mobility and functional outcomes. Angela joined Permobil in 2017 as a Clinical Education Manager in the western region and is currently the Senior Portfolio Marketing Manager for Power Products, working closely with product management and the sales team to bring new products to market.