Birthday cakes are the often the focal point of every birthday party – a child's personality and interests in a masterpiece of flour, eggs, and sugar. Decades later Permobil's Director of Regulatory Science, Kara Kopplin, vividly recalls how the science-themed cake featuring a test tube for decoration she had to celebrate her 9th birthday not only reflected who she was then, but also who she is today.
For nearly 20 years, Kara has been applying her passion for chemistry and expertise to understanding the science behind materials utilized in wheelchair seating while collaborating on the development of international standards for wheelchair seating efficacy, safety, and durability. We are thrilled to have Kara share about the important work she does daily and how her passions outside of work balance her.
---
What was your childhood like?
I grew up in Saint Louis, Missouri. Except for the semester I studied in Sheffield, England for six months, I've spent most of my life living in this area. I am an only child who grew up in a diverse town. There were people and kids from around the world. My best friends were from places including India, the Philippines, Japan, and China. My diverse town and childhood friends helped to set the course for being so interested in working internationally with people from different cultures and backgrounds.
As a child I had dreams of becoming a scientist, an artist, or both. I had a birthday cake when I was nine that had a test tube on it which tells you how nerdy I was.
Where did you go to college, what did you study, and what are some fun memories from that time in your life?
I went to Missouri University of Science and Technology in Rolla, MO. My degree is in ceramic engineering, which is a very specialized materials engineering discipline, heavy on physics and chemistry. I chose this degree because I wanted to help develop space shuttle tiles and superconductors.
A fun fact is that I was a DJ for the college radio station, KMNR in Rolla, MO. The university was approximately 98% engineers, and they had this completely student run and operated radio. We primarily played alternative, punk, ska, and electronic dance music. I could play whatever I wanted during the three-hour slot but couldn't repeat a song in three days. I had to go through all the Federal Communications Commission (FCC) training. The station had CDs and vinyl records. My favorite media to work with was vinyl because you can queue up the next song with two turntables going. I loved it.
My closest friend from college were all DJs too, and we still get together to go to shows and concerts. I didn't have an official name I used on the radio, but my DJ friends dubbed me "Kara Kaos." I still have a junkie old turntable that I am kind of embarrassed by. I enjoy curating music for parties, but I use Spotify to make playlists these days. I still have all of the old cassettes of my shows.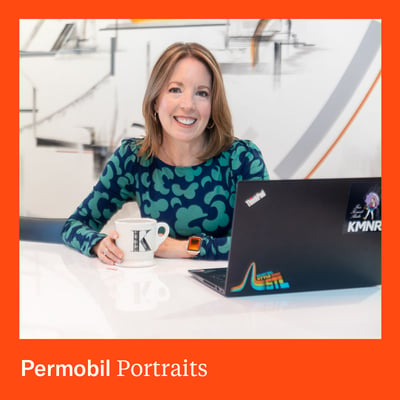 How did you end up working for Permobil?
My first job out of college was in a porcelain enameling plant developing the glass coatings for steel and cast iron for GE and Whirlpool stove tops and burners. While I was working in the enameling plant, I started a small business with my business partner. We had a small shop where we would do custom coatings for different technical and artistic steel and cast iron items. For example, we restored antique stoves and coated buckets that were used for checking airplane fuel that had specific standards from the International Organization for Standards.
The biggest client I consulted with the Lear Cooperation who made the seats for a number of automotive companies. They had a plant here in Saint Louis building the seats for the Dodge Ram truck. I consulted with them on process engineering and setting up their quality systems. A plant manager at Lear went from that seating environment over to ROHO to become the operations manager and called me to consult with ROHO. Initially I thought this work was going to be pretty far from what I understood, because I am a materials engineer; however, when I started reading the literature about pressure, injuries and especially the finite element modeling work that was being done to understand how a body sits and react with cushions and what's happening to those tissues, I realized it's a materials engineering problem too. It's still the same physics, loads, and forces and your body has material properties in the skin, fat, and bone. My materials engineering foundation helped me launch into this aspect of my work and regulatory science, combining the engineering with a clinical perspective by working with clinical experts here at Permobil and beyond.
What would you say is your biggest accomplishment since you've been working at Permobil?
Several years ago, I convened a Scientific Advisory Board that was made up of some of the top pressure injury researchers in the world. Being able to learn from them about the state of the science of pressure injury understanding from the laboratory work to clinical practice to the engineering analysis and the computer simulations, we felt like we had the greatest minds of the world sitting with us, teaching us, and working with us.
ROHO was designed in the early 1970s by an engineer trying to solve the problem of pressure injuries. At the time he had a vision that the body should be immersed, enveloped, and supported like the way water supports you in the ocean. He created a wheelchair cushion based on that vision and his thinking was exactly right. It was fascinating to hear from the Scientific Advisory Board that the science and research had caught up to Robert Graebe's idea from decades ago. We wanted to understand deeply what caused pressure injuries and that helped align our understanding of exactly how our product works.
We then did some finite element modeling computer simulations of how the body sinks in, allowing us to see that when the body does sink in, you are relieving the stress and strain on those tissues. The computer simulations showed us that in ways, until then, we had never seen before. It felt like a leap into the future. Using all these new tools, the ISO tests and clinical practice seemed to really converge. We've been building on the information we learned thanks to the Scientific Advisory Board ever since. As we innovate and develop new products, we consider all aspects - including the internal workings of the body, rather than just external factors. All of this really helps people to understand how and why cushions work in order to make an informed decision as to which cushion is best for them.
Working with the Scientific Advisory Board was very exciting and inspiring!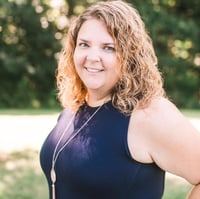 Angie Kiger, M.Ed., CTRS, ATP/SMS
Portfolio Marketing Manager
Angie Kiger, M.Ed., CTRS, ATP/SMS earned a Master of Education degree in Assistive Technology from George Mason University. She is an Assistive Technology Professional (ATP), Seating and Mobility Specialist (SMS), and a Certified Therapeutic Recreation Specialist (CTRS). Angie has over 20 years of experience working in the field of assistive technology serving infants, children, and adults in inpatient, outpatient, school, and community settings with a variety of diagnoses. In addition to working as a clinician, Angie has served as an adjunct instructor at George Mason University and presented hundreds of clinical education trainings both in-person and virtually for global audiences. She has written articles for trade publications and been involved in clinical research. Angie is a member of and serves on the executive board for the nationwide advocacy group The Clinician Task Force. She joined Permobil Americas in mid-2022.