Permobil is thrilled to announce the launch of their new podcast, Wheelchair Nerds. This exciting new venture is all about building meaningful connections and sharing the unique stories of individuals who use wheelchairs for mobility. The primary goal of the Wheelchair Nerds podcast is to bring together people from all corners of the seating and wheeled mobility industry, creating a space where they can share their experiences, insights, and knowledge with one another.
At Permobil, we believe that there is always something new to learn, and that's why we are dedicated to producing a podcast that is informative, engaging, and entertaining. Each episode of Wheelchair Nerds will feature practical information, interesting stories from fascinating people, conversations with designers and researchers about new innovations, and updates on the latest industry news and trends. We want to give our listeners a well-rounded understanding of the world of complex rehab technology (CRT) and the many ways it impacts the lives of individuals with mobility impairments.
But the Wheelchair Nerds podcast isn't just about sharing information; it's also about building a community. We want to hear from our listeners and give them a platform to share their thoughts, ideas, and questions. If you have a topic you'd like us to explore or a person you think we should interview, please drop us a line at WheelchairNerds@permobil.com. We're always on the lookout for new and exciting stories to share with our audience.
Check out our first two episodes by clicking on the images below.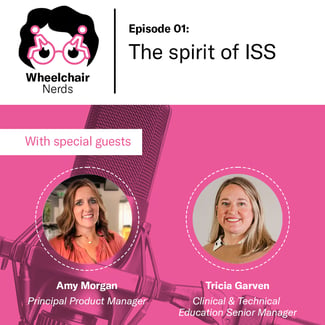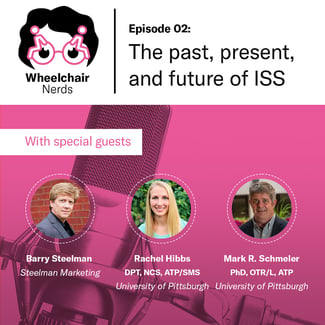 Be sure to subscribe to Wheelchair Nerds on Apple podcasts, Spotify, or wherever you listen to podcasts. Also follow Wheelchair Nerds on Instagram and Facebook to stay up-to-date on podcast news and extras. We can't wait for you to join us on this exciting new journey!
---