In this series, we are exploring ways SmartDrive can help people who use manual wheelchairs and have non-traditional propulsion patterns. To tell these stories, we're following the personal journeys of SmartDrive users. Today we are meeting Nicole and seeing how she uses SmartDrive in her life.
To start off, we are first going to take a look at the ICF model approach. The ICF is a framework for describing and organizing information on function and disability. It provides a standard language and conceptual basis for the definition and measurement of health and disability. Below you'll see the power assist model based on the ICF approach. When it comes to SmartDrive, we, not only look at the diagnosis, but consider the person as a whole and take their entire life into consideration tying everything back to a client's activity performance. Once we have the whole picture, we can recommend the best equipment to match the individual.
Nicole is a self-propeller who uses SmartDrive. She has a diagnosis of Osteogenesis Imperfecta who is a full time actor, writer, and producer living in LA. Nicole is a very active person who is independent with transfers and activities of daily living (ADLs) and needs to be able to manage transferring in and out of a car. Nicole's goal was to remain in her manual wheelchair and continue to complete her mobility-related activities of daily living (MRADLs), such as cooking, cleaning, and transferring from her wheelchair. The manual wheelchair with the addition of SmartDrive was the best way for her to maintain her independence in the home and also outside of the home. SmartDrive provided her the ability to be flexible and increase accessibility without the heavy wear and tear on her body associated with her significant medical history.
Nicole and her team decided to use the SpeedControl Dial in her setup, and as you'll see in the two videos, allows her a very quick, accurate, and efficient way for her to mobilize throughout her home while being able to use her upper extremities. She is propelling with both lower extremities, and the SpeedControl Dial allows her to propel in a more efficient and safe method ultimately decreasing the stress on her joints. This setup again is prolonging her ability to participate in all activities, whether it be transfers, home management tasks, or being out in the community.
Last paragraph - Another point to mention about Nicole's setup is she is seated in a TiLite Aero X folding frame manual wheelchair with a low seat to floor height without footrests so she is able to put her feet on the ground and propel herself. Traditionally, rigid manual wheelchairs are not known to be foot-propeller friendly. However, through the Creative Mobility Division, these custom features are available on TiLite rigid chairs.
---
Want to learn more about alternative applications of SmartDrive? Click here to watch our latest webinar.
---
---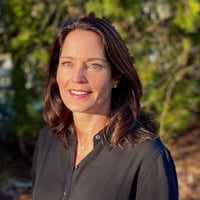 Heather Cianciolo, OTR/L, ATP/SMS
Regional Clinical Education Manager
Heather has been a practicing Occupational Therapist for 29 years specializing in the treatment of SCI, neuro, and orthopedic populations primarily in the acute and outpatient settings. Her specialization in seating and mobility began at the Kessler Institute for Rehabilitation in NJ managing the Inpatient Wheelchair Clinic. After settling in RI, she established the Wheelchair Seating and Mobility Clinic at Southern New England Rehabilitation Center (SNERC) in Providence which has now been servicing adult inpatients and outpatients for over 25 years. Heather has served as an Adjunct Professor at the New England Institute of Technology in RI fabricating and teaching a course on Wheelchair Seating and Mobility. Heather has been a speaker and guest lecturer on seating and mobility technology including presentations at Providence College, Johnson and Wales University, TechACCESS of Rhode island, and SNERC. Heather joined the Permobil education team in 2020.