There's a good chance that if you show a LEGO brick to an adult, teenager, or elementary-age child, they'll instantly recognize it. The sight of a single LEGO can evoke fond childhood memories for many people. These iconic toys have a special way of doing that, as play and toys are often associated with joy and fun.
LEGO introduced their first manual wheelchair made from bricks back in 1975, but it wasn't until 1998 that they released a molded form wheelchair, which was included in a medical scene set. Interestingly, Mattel's first Barbie doll in a wheelchair came out just before LEGO's molded form wheelchair in 1997. By the late 1990s, I was already in college, so my days of playing with Barbie and LEGOs were behind me. However, both were still big news in my Recreation Therapy classes, where we were studying the importance of recreation and leisure in development and rehabilitation.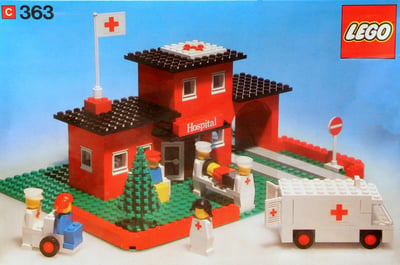 ©1975 LEGO Group
Representation is crucial in all aspects of life, especially during developmental play activities with young children. For children and adults with disabilities, it allows them to play alongside their peers or, in the case of adults, their own children, with a character or doll that looks and experiences life in a make-believe world similar to their own. It also helps reduce the stigma surrounding mobility devices and other assistive technology when children without disabilities have the opportunity to play with toys that include them in their imaginative play activities.
It has been over 25 years since LEGO added the molded form manual wheelchair to their extensive range of pieces, which means it's high time they introduce a power wheelchair option as well.
Enter Anton Danielsson the lead engineer of chassis development at Permobil. In a groundbreaking move, Anton recently submitted the Permobil F5 Corpus VS power wheelchair as a LEGO ideas set. Garnering an impressive 1,980 supporters, his design features all the incredible functionalities of the actual F5 Corpus VS, including vertical standing, anterior and posterior tilt mechanisms, individual suspension on all four wheels, and foldable armrests and footplates.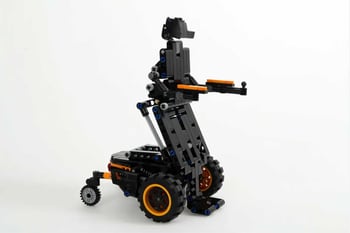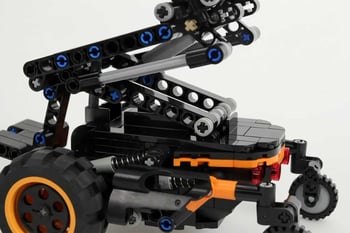 Inspired by individuals who rely on complex rehab technology (CRT), Anton expresses his admiration for their unwavering determination and problem-solving abilities. Their ability to overcome physical limitations and pursue their dreams is a constant source of inspiration for him.
If you're as captivated by Anton's innovative design as we are, help us reach our goal of making this idea into a reality. Click here to show your support for the Permobil F5 Corpus VS power wheelchair LEGO Ideas. We need 10,000 supporters to bring this idea to life--let's make this extraordinary vision a reality together.
---
---
Angie Kiger, M.Ed., CTRS, ATP/SMS
Senior Marketing Operations Manager
Angie Kiger, M.Ed., CTRS, ATP/SMS earned a Master of Education degree in Assistive Technology from George Mason University. She is an Assistive Technology Professional (ATP), Seating and Mobility Specialist (SMS), and a Certified Therapeutic Recreation Specialist (CTRS). Angie has over 20 years of experience working in the field of assistive technology serving infants, children, and adults in inpatient, outpatient, school, and community settings with a variety of diagnoses. In addition to working as a clinician, Angie has served as an adjunct instructor at George Mason University and presented hundreds of clinical education trainings both in-person and virtually for global audiences. She has written articles for trade publications and been involved in clinical research. Angie is a member of and serves on the executive board for the nationwide advocacy group The Clinician Task Force. She joined Permobil Americas in mid-2022.