Looking for more information about manual wheelchairs? Check out our Manual Wheelchair Guide.
---
Everyone has experienced an ergonomic seat design at some time or another. If you look at the seats in our cars, offices or even in waiting rooms ergonomic design is used because those making the chairs understand that the more the chair contours and fits a person, the less work the person must do to maintain good posture. Ergonomic seating has been underutilized in manual wheelchair design because we have customarily been dependent on cushions and backrests for postural support and positioning. We've also used linear seat slope as a method of providing pelvic stability, but this comes with important considerations. So, what is the difference between using traditional linear seat slope and ergonomic seating? We will take a closer look at the differences and show you why ergonomic seating is an amazing advancement in seating design for a person using a manual wheelchair.
---
Traditional Seat Slope vs Ergonomic Seating
Seat slope, commonly termed "dump", is defined as the difference between a rear seat to floor height and front seat to floor height of a manual wheelchair. Why would you have a seat to floor height that is lower in the back and higher in the front and what are the benefits?
Creates Passive Pelvic Stability
When a person has paralysis, hypotonia, incomplete motor coordination, an amputation, fatigue, impaired sitting balance, and they are unable to use their hip, thigh and trunk muscles for balance, the wheelchair or the seating system must do it for them. Hence the phrase "proximal stability for distal mobility". Seat slope creates that passive pelvic stability through the configuration of the wheelchair which allows the person to have better upper extremity function and endurance to perform their daily tasks.
Efficiency of Propulsion
Research has shown us that when a person is more stable, combined with also sitting in their chair with 100-120 degrees of elbow flexion when they initiate a push, the impact of shoulder overuse can be minimized. When you use seat slope to improve wheel access, pushing becomes more efficient.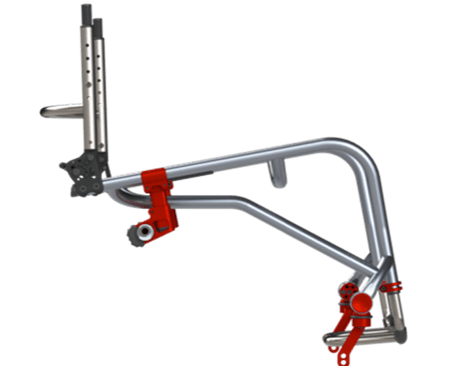 In general, most people benefit from some degree of seat slope. If you do not have seat slope, you may find yourself working harder than needed to sit in your wheelchair, which can in turn impact your posture, your pain levels, your sitting tolerance, and require you to limit participation in desired activities. But what are the considerations when using traditional seat slope to achieve these results?
Posterior Chair Instability
Typical seat slope is linear or planar and as it increases the chair becomes more unstable posteriorly as it changes the center of gravity. A good example of the effect planar seat slope has on stability is for people who require 3 or more inches of seat slope. As slope is increased, the center of gravity shifts and the backrest angle is decreased, or the axle is moved posteriorly to compensate. These compensations lead to possible decreased postural positioning and decreased propulsion efficiency.
Posterior Pelvic Tilt and Thoracic Kyphosis
Posterior pelvic tilt is the default position for all of us when we sit. This is typically exaggerated when someone has postural weakness and is further exaggerated when they sit on an angle. As you can see in the picture below, this MAY result in increased pressure at the bony prominences at the seat surface and minimal contact with the back support which can also result in peak pressures on the spine. (highlight the linear seat slope, show peak pressures in red at the IT's and thoracic spine)
---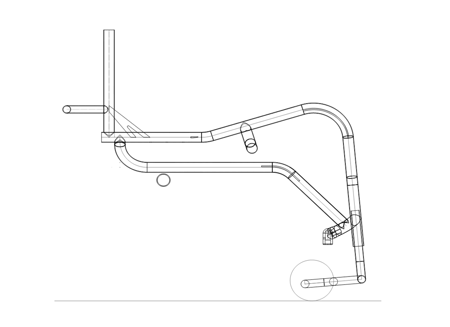 Ergonomic seating differs from traditional seat slope as it creates the shape through bending the material that the frame is made from, so it is more like the profile of the person. Since most wheelchair users benefit from some measure of seat slope, ergonomic seating offers an alternative that promotes improved posture and function. Rather than fitting the person to a wheelchair, ergonomic seating allows you to fit the wheelchair to the person. This includes creating a seating surface, where the person's pelvis sits, that is parallel to the ground which increases posterior chair stability relative to a traditional linear seat slope. Ergonomic seating offers the benefits of seat slope, passive pelvic stability and efficiency of propulsion, and addresses all the concerns.
What are some of the potential benefits to using ergonomic seating?
Decreased Seat slope
Ergonomic seat slope can be decreased relative to a linear or traditional design, because the person's rear seat to floor height is level allowing the person's pelvis to be measured at the desired rear seat to floor height for rear wheel access.
Supports natural spinal curves
Ergonomic seating allows you to use the wheelchair frame to support the natural curves of the pelvis and spine. By adding a back support with lumbar support adjustment, the wheelchair will promote maximum pressure distribution, upright posture and pelvic stability. This in turn results in improved upper extremity function, endurance, and ability to perform daily activities.
May Improve Bodily Functions
An upright posture decreases pressure on the abdomen which improves digestion and bowel and bladder function. It also opens the diaphragm which improves respiration.
Level Surface at Hips and Knees
An ergonomic seat typically allows your hips and knees to be more level than they would be in a traditional chair with linear seat slope. This means that it is easier to carry items and have more of a working space for a lap tray to hold your computer, tablet, carry a drink, prepare a meal, etc.
Improved Wheel Access
As you can see in the illustration below, the ergonomic seat allows for improved wheel access and push efficiency as it promotes improved pelvic position and stability, and upper extremity function.


Increased Chair Stability: Ergonomic seating improves the overall weight distribution of your chair. This improves the chair's stability on both level and unlevel surfaces.

---
TiLite originally only included this design in fixed titanium chairs and are now adding the option to both titanium and aluminum adjustable frame options. This was in response to increased requests for ergonomic seating from therapists and ATPs who have seen the many benefits and wanted this option for more people. Check out the increased offerings of ergonomic seating by TiLite and contact your local Permobil territory sales manager for a trial!
---
---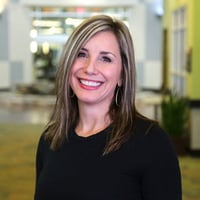 Stacey Mullis, OTR/ATP
Director of Clinical Marketing
Stacey serves as Director of Clinical Marketing for Permobil. A practicing OTR for over 20 years, she has experience in school-based pediatrics, inpatient rehabilitation, long term care, and home health. With her interest in wheelchair seating and positioning, Stacey engaged the challenges of providing appropriate seating in various clinical settings. She now uses this experience to develop programs and resources to educate clinicians on the principles of seating and wheeled mobility. She is passionate about equipping clinicians and through her previous role as Director of Clinical Education with Comfort Company and now with Permobil she has taught nationally and internationally to increase therapist capacity in this specialty area. Mullis graduated from Western University in London, Ontario, Canada with a BA Linguistics and BSc Occupational Therapy. She is a member of the NCOTA, CTF Executive Board, NRRTs, RESNA, and AOTA.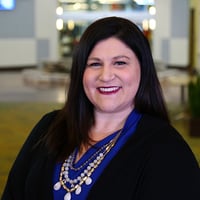 Jennith Bernstein, PT, DPT, ATP/SMS
Regional Clinical Education Manager
Jennith Bernstein received her masters in Physical Therapy at North Georgia College & State University and returned to complete her transitional DPT at University of Texas Medical Branch in 2014. While at Shepherd Center, Jennith, initiated a "Seating Champion" program to improve the inpatient and day program clinicians understanding of complex seating, pressure management and skin protection as well as research reviews, advanced programming and adjustments. She was also part of a center wide multidisciplinary focus group for reduction of hospital acquired skin breakdown. Jennith has served as a volunteer teacher at the Universidad Mariano Galvez in Guatemala, instructing spinal cord injury curriculum as well as seating and mobility. Jennith has presented at national conferences such as RESNA, ISS, and the APTA NEXT conference. Jennith has been a practicing PT for 12 years and spent the last 10 years at a model SCI center (Shepherd Center) in Atlanta, Georgia. Jennith joined Permobil as the Clinical Education Manager for the Central Region in 2016.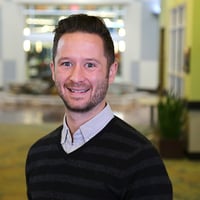 Curtis A. Merring, ORT, MOT
Director of Market Development, Manual Products
Curtis A. Merring, OTR, MOT received both his undergraduate psychology degree and masters in occupational therapy at the University of Pittsburgh. While at university he was involved in research on multiple studies dealing with psychosocial disorders, wheelchair seating, and neurological recovery of the upper extremity for stroke patients. As an occupational therapist and researcher for the past 9 years he was responsible for treating and investigating spinal cord injury and stroke. This included being awarded multiple small grants and coordinating research projects between the clinic and local universities. Curtis has also worked as a Director of Therapy Services in the geriatric setting including opening and managing rehabilitation departments at multiple locations. During his time as a director he developed a program called "Seating System Management in Skilled Nursing Facilities and Long Term Care", that was a continuing education course he taught to facilities in both Texas and California. The goal of the course was to improve the seating systems of a very underserved population. Curtis is currently the Director of Market Development, Manual Products.