Three main types of drive wheel configurations are available for power wheelchair bases: front-wheel drive (FWD), mid-wheel drive (MWD) and rear-wheel drive (RWD). Each configuration has pros and cons. Although on paper, one style system might sound better than another, the most important activity is for the person to assess by using the wheelchair options in the seating clinic and in their home. Bathroom access, bedroom access, transfer skills, halls and doorways for entering and exiting a room affect the style of chair base selected. A person's cognitive and perceptual skills impact their ability to maneuver the wheelchair in their everyday environments.
It is important to assess the individual client's needs at the power wheelchair evaluation to help determine which drive wheel configuration will best meet the identified functional mobility requirements. The seating system: tilt, recline and/or elevating legrests will also affect the chair performance potentially increasing the length of the chair and possibly making turns larger depending on the position of each feature. Additionally, the client needs to determine what is most important: driving indoors or outdoors.
Throughout this blog series on drive wheel configuration, we will delve into the three primary types of drive wheel configuration available for power wheelchair bases. We will explore the numerous benefits and considerations for each type, as well as provide valuable techniques to enhance driving performance specific to each drive wheel configuration. Today's blog focuses on front wheel drive.
Front-Wheel Drive
The front-wheel drive chair has the drive wheel in the front and the casters in the rear. The following pros and cons should be considered when thinking about FWD configuration. Remember, these are general concepts and apply differently to each individual chair model.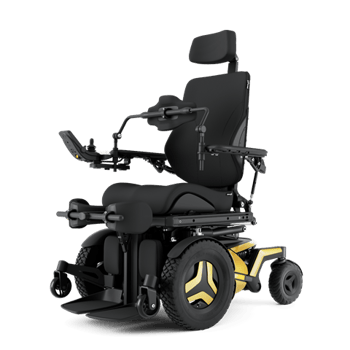 Benefits of Front-Wheel Drive
As the front wheels are connected to the drive motors, these pull the casters over obstacles and through various terrains in a more effective way than other configurations where the casters are being pushed. When casters are being pulled, as in FWD, the force generated is forward and upward allowing the chair to get over obstacles and through softer terrains.

The drive wheels located in the front allow for negotiating obstacles from any direction (the base does not need to be straight on in relation to the obstacle).

Completing 90-degree turns require less space in FWD when hugging the wall/corner.

Four wheels on the ground minimize the energy and forces that are distributed through the chair.

Weight distribution in FWD is forward, providing good balance when utilizing power seat functions that shift a client's weight posteriorly.

FWD bases improve the ability to position the lower extremities in 90 degrees for the seat to lower leg angle without worry of caster interference.
Considerations of Front-Wheel Drive
Some people feel uncomfortable with the rear casters turning in FWD (swinging rear end), and there is a learning curve to establish successful driving techniques. Clients need to be aware of what is behind them.

Historically, FWD bases tracked poorly at higher speeds, often referred to as "fish-tailing"; however, current tracking technology has reduced this concern.

Weight distribution forward creates the possibility for base instability when descending ramps or large inclines, especially at higher speeds with abrupt stopping, often requiring front anti-tipper wheels.
Stay tuned for our next installment in the series on drive wheel configurations, where we will take a closer look at mid-wheel drive and its numerous benefits and considerations.
---
---
Amy Morgan, PT, ATP
Director Product Management ‑ Power Wheelchairs

Amy has been involved in complex rehabilitation technology since beginning her career as a physical therapist in 2000. Amy's clinical experience primarily includes outpatient and inpatient pediatric care at Cincinnati Children's Hospital where she worked with a variety of patient populations. Additionally, Amy was the lead therapist in the Wheelchair/Seating Clinic and Comprehensive Neuromuscular Care Center. In 2007, she joined Permobil as the Pediatric and Standing Clinical Specialist/National Clinical Education Manager where she presented lectures both nationally and internationally and provided input to design for new products. Amy has also worked in Sales at Permobil as the Territory Sales Manager for central/southern Ohio where she earned top sales awards multiple years. She is now part of the Marketing organization as the Director of Product Management for Permobil's power mobility product line.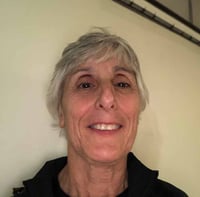 Faith Saftler Savage, PT, ATP
Seating Specialist and Consultant
The Boston Home
Faith has over 40 years of experience as a physical therapist, seating specialist and rehabilitation technology supplier, treating persons of all ages with a variety of disabilities. She has been working as a seating consultant at The Boston Home for 30 years assisting residents with MS and other chronic disabilities in obtaining appropriate manual and power wheelchair systems to improve posture, comfort, function and independence in mobility. She runs an outpatient clinic at The Boston Home and assists people in the community with diagnoses including SCI, MD, CP and MS to obtain appropriate equipment.
She has published chapters in journals and books including; International Journal of MS Care, Fundamentals in Assistive Technology and Physical Rehabilitation. Speaking topics include seating assessment, power mobility and alternative positioning. Faith received her BS in Physical Therapy from Ithaca College in New York.