When choosing equipment for the end user, we have to look at where they are today in their physical condition, and we have to consider the prognosis. This is especially true when assessing an end user for a group 3 power chair. Generally speaking, the person who qualifies for a group 3 power chair has a neurological diagnosis that is either progressive or non-progressive. The course of these disease processes can vary so much from person to person, but one thing we can count on is that there will be change! Change in condition can lead to pressure injuries, postural deformities, pain, and discomfort if the equipment can't accommodate it.
Provided below is a brief overview of each category of neurological disorders, with reasons to consider a Comfort Company back support to accommodate for future changes, as well as to address other symptoms.
---
The type of patients that qualify for group 3 chairs include:

1. PROGRESSIVE NEUROLOGICAL DISORDERS
MS, ALS, Parkinsons, Muscular Dystrophy
THEY GET WORSE OVER TIME

, so we need to think ahead
Symptoms include

weakness, poor endurance, discomfort, hyper

or

hyposensitivity
Some may involve movement disorders where there are spasms or involuntary movements. An example is Parkinsons and dystonia.
HOW DO OUR CUSTOM BACK SUPPORTS OFFER MORE THAN THE PWC (power wheelchair) MANUFACTURER'S BACK SUPPORT?
Acta-Relief is a perfect back support for this population as it captures a users' shape, providing optimal support and maximum pressure re-distribution. The foam options are soft and perceived as extremely comfortable, laterals can be added for increased support.
Acta-Embrace back wings can be placed lower at the PSIS to provide more pelvic stability, and prevent the slouched posterior pelvic tilt posture
The moldable stays can be adjusted for increased support and/or contact. For example, the stays can be molded for lumbar support which can help with pelvic stability and maintaining a more neutral position. These can be adjusted as many times as needed throughout the disease process (Acta-Back, Acta-Contour, Acta-Embrace)
Laterals are easy to add/mount and adjust and can be modified as needed over time to provide the support needed
Acta-Back Deep has fixed laterals for those with movement disorders to provide more aggressive support. The laterals can be requested at a specific height on each side of the back shell, and can be requested in one of 3 depths (3", 5", 7").
Option of visco foam topper provides increased comfort
Acta-Relief with foam in place can be an alternative to a mold
Foam in place for significant lordosis with Muscular Dystrophy when moldable stays are not enough





---

2. NON-PROGRESSIVE NEUROLOGICAL DISORDERS
SCI/Quadriplegia, Traumatic Brain Injury, Cerebral Palsy
Involve muscle weakness, muscle imbalances, abnormal muscle tone, and at times involuntary movements
With muscle weakness you can lose the natural "S" curve of the spine if not well supported
These are long term power wheelchair users and appropriate support can promote optimal function
Abnormal muscle tone and muscle imbalance potentially leads to progressive deformity of pelvis/spine if not well supported
HOW DO OUR CUSTOM BACK SUPPORTS OFFER MORE THAN THE PWC MANUFACTURER'S BACK SUPPORT?
CD foam options can be used to design a back that will provide maximum comfort and support
Acta-Embrace back provides maximum thoracic contact with the adjustable wings/laterals
Acta-Relief back provides customized support by allowing immersion through the shell and capturing a users' shape, providing optimal support
Moldable stays can be used to create and support the "S" curve of the spine
Moldable stays can provide maximum contact with the backrest when deformity is present which increases support and decreases risk of pressure areas
---

When choosing equipment for a group 3 power chair user, don't forget about the certainty of change. And consider that an adaptable wheelchair back support, like those mentioned above, can accommodate change. The good news is that Comfort Company now has a Universal Power bracket that will allow you to mount any of our wheelchair back supports on most power wheelchair bases.
If your end user needs more support than the power chair back can offer, or if they need an option to accommodate change over time, consider the multiple Comfort Company back support options with our new universal bracket.
---
---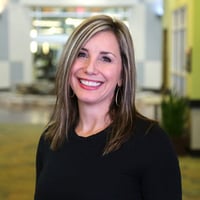 Stacey Mullis, OTR/ATP
Director of Clinical Marketing
Stacey is Director of Clinical Marketing. She graduated from Western University in London, Ontario, Canada with a BA Linguistics and BSc Occupational Therapy and has practiced as an OTR for over 20 years. With experience in pediatrics, inpatient/outpatient rehabilitation, long term care, and home health, Stacey has faced the challenges first hand of providing appropriate seating in various clinical settings. This led her to pursue an apprenticeship at Care Partners Seating Clinic in Asheville, NC to advance her skills, and she obtained her ATP certification in 2012. Mullis is a member of the NCOTA, CTF, NRRTs, RESNA, and AOTA.