Part 2 in our two-part series exploring the potential benefits and uses of front wheel drive power wheelchairs. Check out Part 1. For more information on Standing Wheelchairs, check out Landon's Journey to Standing.
---
Last week we looked a few reasons a front wheel drive (FWD) power wheelchair might be right for you. We discussed how FWD wheel base configuration can increase how close you can get to surfaces for function and drive maneuverability to ease navigation of tight corners. This week we continue our conversation by taking a look at the following reasons FWD might be the right mobility base for you:
Obstacle Negotiation

Enhanced Steering

Smooth Ride

Stable Base of Support
---
Obstacle Negotiation
By having the big wheel in the front, front-wheel drive improves obstacle negotiation. It can allow for reduced vibration, reduced loss of positioning, and increased comfort. Most importantly, motors are pulling you up and over your obstacle to improve the obstacle negotiation. In different drive wheel configurations like mid-wheel drive, those motors push you up that obstacle. It's much easier to be pulled over something rather than pushed over an obstacle as you would with a mid-wheel drive especially when encountering a flat and hard surface.
Again, consider the different terrains that someone might be negotiating. What type of terrain is the person traveling on most often and is it better to have only two casters on the ground swiveling and sinking into soft terrain or is it better to have four caster wheels that are swinging and swiveling and sinking into that rough or soft surface. Front-wheel drive has only four wheels including the two casters, on the ground and is less likely to experience that sinking in.
Front-wheel drive is not just for your rural areas like dirt, mud, or grass. It's also for that urban environment such as going over cobblestone, streets that are not very well kept, or any sort of uneven sidewalk. These terrain challenges are going to be just as jarring in an urban environment as anything would be in a rural environment.
Enhanced Steering
One perceived barrier of front-wheel drive is people feel, especially at higher speeds, there could be an impaired tracking of the rear casters in a front-wheel drive. The way that we are able to manage that is through ESP. This is our steering technology. It's a proven gyroscopic tracking technology. It is standard on all F-Series power wheelchairs from Permobil. There are a lot of different tracking technologies out there so take the time to understand how each of these tracking technologies work based on the way you drive your power wheelchair as well as the environment where you will use your chair. In addition, ask questions about which mobility bases have tracking technology standard. When something is a standard, it means that it is included with the wheelchair at no additional cost. Always request the best tracking technology on your front wheel drive power wheelchair.
Smooth Ride

Why do we want to manage vibration for our clients that use power mobility devices? The levels of exposure people experience in the power wheelchair can often exceed the international standards for safety. Even if there are fewer exposure bouts, people who use power wheelchairs for mobility are also experiencing this exposure to vibration with compromised body systems that may be sensitive to any change. When a person is exposed to repetitive high levels of vibration, it can contribute to postural asymmetries, increased spasticity, and loss of positioning. It can create difficulty when trying to access the input devices or switches controlling the wheelchair. In addition, these factors, along with possible pain and fatigue, can result in decreased sitting tolerance. Managing the vibration allows a person to remain in their power wheelchair for their desired duration and may increase their ability or desire to participate in activities that are meaningful to them, while reducing secondary complications of bedrest. User is then able to sit in their chair for as long as they desire.
Stable Base of Support
The positioning of the batteries, the positioning of the chassis, the balance of the seating system over the base: all these things when planned out appropriately, allow for the client to have the best distribution of weight over the base so that we have stability, both in an anterior and posterior position. When going downhill and when in a functional position, or when using power seat functions for repositioning, the chair remains stable. What this enhanced stability also lets us do is maximize our power seat functions to provide multiple solutions for repositioning including ActiveHeight™, ActiveReach™ and provide someone with the ability to experience Vertical Standing.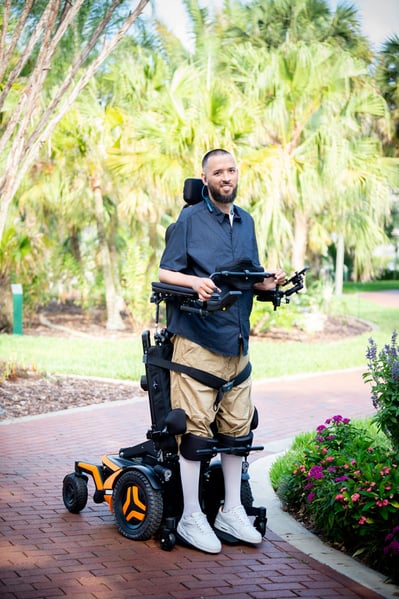 ---
We hope this series has given you more insight into why you might select a power wheelchair that has Front Wheel Drive configuration. Remember, each person is an individual, so one wheel base will not work for everyone. Trialing and training with the equipment is a vital part of matching the person to the right technology solution.
---
---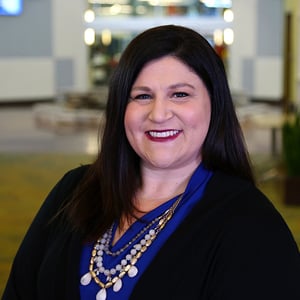 Jennith Bernstein, PT, DPT, ATP/SMS
Regional Clinical Education Manager
Jennith Bernstein received her masters in Physical Therapy at North Georgia College & State University and returned to complete her transitional DPT at University of Texas Medical Branch in 2014. While at Shepherd Center, Jennith, initiated a "Seating Champion" program to improve the inpatient and day program clinicians understanding of complex seating, pressure management and skin protection as well as research reviews, advanced programming and adjustments. She was also part of a center wide multidisciplinary focus group for reduction of hospital acquired skin breakdown. Jennith has served as a volunteer teacher at the Universidad Mariano Galvez in Guatemala, instructing spinal cord injury curriculum as well as seating and mobility. Jennith has presented at national conferences such as RESNA, ISS, and the APTA NEXT conference. Jennith has been a practicing PT for 12 years and spent the last 10 years at a model SCI center (Shepherd Center) in Atlanta, Georgia. Jennith joined Permobil as the Clinical Education Manager for the Central Region in 2016.