Looking for more information on seating and positioning? Check out our digital page all about what to look for in seating and positioning products here. This is part 1 of our series on seating and positioning.
At Permobil, we have wheelchair seating solutions for every individual. Solutions designed for all ages, sizes, abilities, and needs. In this blog series we will explore all things seating and positioning from the pressure management to material, shape, and clinical applications of our seating and positioning product lines.
---
Protecting your skin is one of the most important things to do when you're in a wheelchair. Individuals who use a wheelchair as their primary means of mobility often have sitting times of more than 10 hours per day. These sitting times, in combination with a reduced ability to change position, disease process, age and decreased sensation, can put an individual at high risk for skin breakdown.
According to the 2019 NPIAP Clinical Practice Guideline:
A pressure injury is defined as localized damage to the skin and/or underlying tissue, as a result of pressure or pressure in combination with shear. Pressure injuries usually occur over a bony prominence but may also be related to a medical device or other object, or a combination of these.
Pressure:
When a continuous force is applied on a surface, it may create high peak pressures under bony prominences. Over time, these high peak pressures can restrict blood flow and lead to ischemia of the cells, resulting in cell death and pressure injury. Pressure cannot be eliminated in seating, so instead, we must focus on the redistribution of pressure to avoid high peak pressures in areas that are high risk.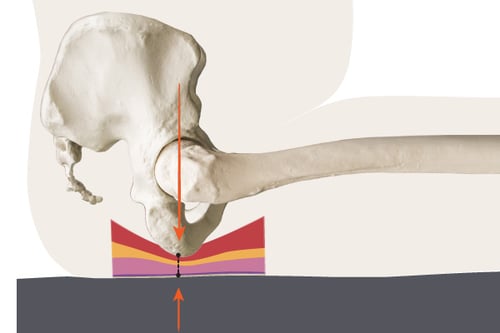 There are three methods of pressure redistribution to understand: immersion, envelopment, and offloading. When assessing cushion properties, it is helpful to determine which type of pressure distribution it uses to offer skin protection. It may be designed to offer one or multiple methods of pressure distribution.
The Mechanics of Pressure

Client sits in a static posture for prolonged periods of time
▼

Peak pressures develops at the bony prominences caused by the constant downward pressure from gravity plus the upward pressure from the seat surface
▼

The skin/soft tissue between the bony prominences and the seat surface is constantly being compressed
▼

The lack of blood flow, O2, and nutrient delivery results in ischemia
▼

Tissue death/pressure injury
Since we understand that individual characteristics and goals come with unique demands, Permobil offers a portfolio of cushions with various methods of pressure distribution through materials/technologies and contours that can meet those demands.
---
Shear:
Shear is defined as a combination of downward pressure and static friction. It occurs when the skin or soft tissue "sticks" to the seat surface while the underlying bony prominences continue to move. This results in shear forces at the deeper levels of the skin which distort and tear the cells, resulting in cell death. These types of wheelchair pressure injuries are insidious since they occur from the inside out.
Mechanics of Shear

Gravity causes downward pressure
▼

The pelvis/spine move in the wheelchair
▼

Support surface with high coefficient of friction causes skin to "stick" to seat surface
▼

The skin/tissue at the seat surface sticks while the underlying bone structure moves
▼

The tissue is strained by the opposing forces
▼

Permanent cell deformation at the deeper layers of tissue
▼

Blood capillaries tear & damage decreases oxygen delivery
▼

Ischemia amplified
▼

Tissue death/pressure injury
The NPIAP Clinical Practice Guideline recommends using strategically placed low-friction interface materials to minimize the risk of shear. Permobil has exclusive rights to a low friction technology called GlideWear. It is a cover option on our Comfort Embrace and Comfort M2 cushions and it is strategically placed in the high risk area, the pelvic well, to provide a low friction zone at the bony prominences. The rest of the cover provides high friction to maintain stability and positioning on the cushion. GlideWear takes a foam cushion, which is inherently a high friction medium, and immediately reduces the risk of high friction and shear.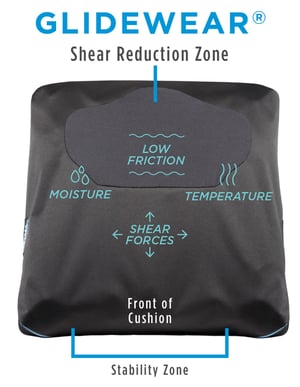 Permobil takes skin protection seriously and our portfolio reflects our in depth understanding of the risks of pressure and shear. Check out our cushion offerings here.
Join us next time as we discuss the importance of positioning.
---
---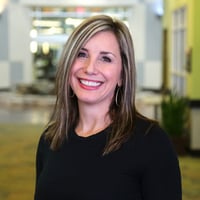 Stacey Mullis, OTR/ATP
Director of Clinical Marketing
Stacey serves as Director of Clinical Marketing for Permobil. A practicing OTR for over 20 years, she has experience in school-based pediatrics, inpatient rehabilitation, long term care, and home health. With her interest in wheelchair seating and positioning, Stacey engaged the challenges of providing appropriate seating in various clinical settings. She now uses this experience to develop programs and resources to educate clinicians on the principles of seating and wheeled mobility. She is passionate about equipping clinicians and through her previous role as Director of Clinical Education with Comfort Company and now with Permobil she has taught nationally and internationally to increase therapist capacity in this specialty area. Mullis graduated from Western University in London, Ontario, Canada with a BA Linguistics and BSc Occupational Therapy. She is a member of the NCOTA, CTF Executive Board, NRRTs, RESNA, and AOTA.