I recently attended the National Speakers Association Conference in July with some of the top Keynote speakers and trailblazers around the globe. I came away with a singular message. It's not what you do, it's why you do it. For me, it's about adapting to your circumstances and still nailing down your purpose. So, the question remains, what is my purpose?
My purpose is to teach people how to become their own self advocates, especially as it relates to health insurance advocacy and health equity. What I do directly feeds into why I do it. I teach individuals how to become their own advocates in navigating the health insurance appeals process for medical equipment and services, consult with incredible organizations on disability inclusive hiring practices, coaching disability Employee Resource Groups, engaging keynote speaking on the topic of changing your perspective through finding that spark that ignites change within yourself, and so much more.
Why do I do it? It's simple. In 2010 when I broke my neck in a shallow water diving accident leaving me a C6 quadriplegic, I had a feeling I would spend the rest of my life helping other humans live their best lives after I figured out how to live my own. It's not just about surviving your life, but thriving. This can be immensely challenging for wheelchair users as they are trying to fight a broken healthcare system. I consistently strive towards advancing systemic change, but it is critically important to learn how to navigate within a broken system simultaneously.
My health insurance advocacy career had the humblest of beginnings and the most painful. I was living in my bed looking at four walls for 1 year of my life suffering from a stage 4 pressure sore with multiple traumatic surgeries. I was repeatedly denied medically necessary equipment I needed to survive. As so many people seem to call me the energizer bunny on wheels - I started to get to work. I learned how to write letters of medical necessity backed up by peer-reviewed journal articles and started to take control of my own healthcare.
You know what? The strategy started to work and I started to spread what I had learned to help other individuals and organizations at the national level. In 2020, I was denied a power seat elevator for my wheelchair. I reached out to 57 new stations of which 3 reached out to me. I went to my health insurance providers headquarters to try to meet with their CEO for weeks on end and wrote letters by the day.
I refused to give up, but I acutely acknowledge that so many others are not afforded the opportunity to fight like I did. I was fighting for them. Fast forward a few weeks later, my health insurance provider sent me a letter announcing that they had determined that my power seat elevator was medically necessary, but this is not a precedent. This enraged me.
Through my work with different non-profits and organizations around the country I joined the ITEM with countless other advocates, PTs, OTs, lawyers, and organizations to work with CMS to re-classify power seat elevators as Durable Medical Equipment (DME). Once a piece of equipment is classified as DME you can then fight the system and go to the appeals process to get a piece of CRT covered. If a piece of equipment or service is a noncovered benefit item or a luxury item then you have no fighting chance to getting this covered. I've tried! Legislation is the only route. Most CRT equipment falls under luxury items or convenience items. It's long, arduous, and tireless work to introduce successful legislation, but there are no words to describe how much it is worth it when you do succeed.
After years of advocacy with the ITEM Coalition, in May 2023 there was a landmark decision where CMS officially announced power seat elevators for power wheelchairs were going to be classified as DME. A momentous victory, but only the start. Now we are on to working on standing power wheelchairs as our next advocacy mission. Advocacy never stops. It's a consistent lifelong mission I personally have and others share that becomes ingrained within the fibers of your being.
I am frequently asked how I got involved with so many incredible human beings, organizations, and advocacy efforts. Truthfully, I'm very pleasantly persistent. You find something you are intensely passionate about and others share that passion, it then turns into a shared collective purpose. Then, with a lot of hard work that purpose turns into a meaningful and actionable plan.
If you are an advocate or a person who is passionate about something there is always an avenue to get involved. You do not have to make history with legislation, but it can be as simple as getting involved with your local government to make a swing set accessible, hosting peer support groups, connecting with local nonprofits in your disability community who work on issues that are passionate to you. A simple Google search in your hometown for local disability organizations is a very simple and powerful step to start. One has to appreciate the beauty of technological advancement over the last 20 years.
It starts with you though. You are your own best self-advocate and while you may have a great support system behind you, this is your life. We have this one life. How do you want to live it? What do you want to be remembered for? How are you going to turn some of the most seemingly insurmountable challenges in your life into strengths? In short, it's going to come down to people. Specifically, people around you who share the same vision, are their own self advocates, and who believe in fundamentally changing the system. Day by day, sometimes hour by hour, but it's about consistency.
As Benjamin Disraeli said "The secret to success is constancy of purpose."
---
---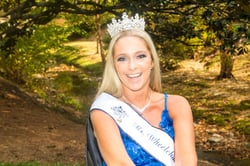 Ali Ingersoll
Ali Ingersoll is a corporate DEI disability strategy consultant, Ms. Wheelchair America 2023, keynote public speaker, writer, and financial assets trader.
Ali's professional passion lies in coaching organizations on how to strategically create and implement disability inclusive policies and practices within organizations from C-suite leaders to employee resource groups. She accomplishes this through teaching how to minimize bias, increase advocacy, accountability, access, and inclusion internally.
Ali started her healthcare advocacy career after being repeatedly denied medically necessary equipment by insurance companies over the last 12 years since becoming a C6 quadriplegic and full-time wheelchair user after a shallow water diving accident. She focuses much of her advocacy work on health equity through helping people with significant disabilities get the proper approvals for the medically necessary equipment they need to not only survive in life, but to thrive in order to achieve a higher quality of life.
Disability Inclusion in our society is a priority Ali focuses on improving every day. Ali has a firm philosophy of paying it forward by giving back to the community when she is not working through collaborating with stakeholders in the government, the non-profit world, and partnering with organizations to create a more inclusive society and disability employment environment.
She believes it's important to band together as one in order to affect the greatest change on the national stage and in local communities.