Working one-on-one with end users to achieve the perfect seating system is one of the most rewarding aspect of being a part of the Comfort Company team. It's a chance to see how our work impacts the end user in the form of a smile and keeps our passion for helping others thriving. Comfort Company is constantly looking for ways to get involved and create positive change. This summer we had the pleasure to work with our good friend, David Poole.
A Little Background
Our relationship with David Poole started in 2006 when a tragic skiing accident left him paralyzed from the waist down. "I had to start over and started at square one" says Poole, who immediately continued to pursue his passions of fishing, camping, hunting, skiing and biking after the accident. We at Comfort Company felt compelled to join David on his journey, doing whatever we can to help him follow his athletic pursuits and achieve his goals. David is constantly evolving the world of adaptive sports through his relentless quest of athletic advancement. Whether it's a revolutionarily approach to adaptive wake surfing or developing a new sport called downhill bucket biking, David is leading the way. So, when he approached us about some problems with his handcycle and "bucket" bike, we couldn't help but jump on the opportunity.
---
The Process
David first spoke with us about some seating issues he had with his off-road handcycle and his downhill "bucket" bike. We talked through the type of riding done with each bike and measured and inspected all the areas of contact. The overall design of the handcycle was sound but all the surfaces needed to be improved. The previous cushions and covers were constructed by David and friends in his garage, and with limited to the tools and materials, they made some compromises. Needless to say, we couldn't wait to get to the drawing boards with our team of expert foam fabricators and pattern makers.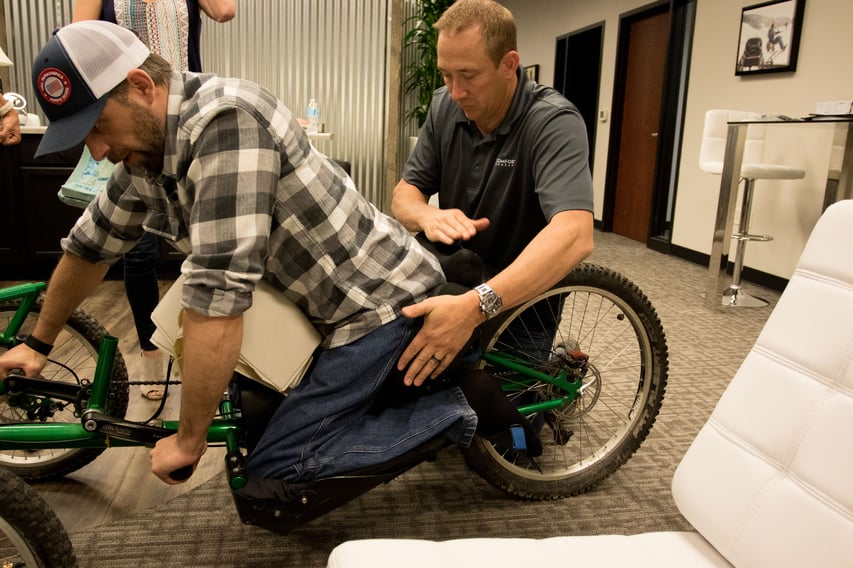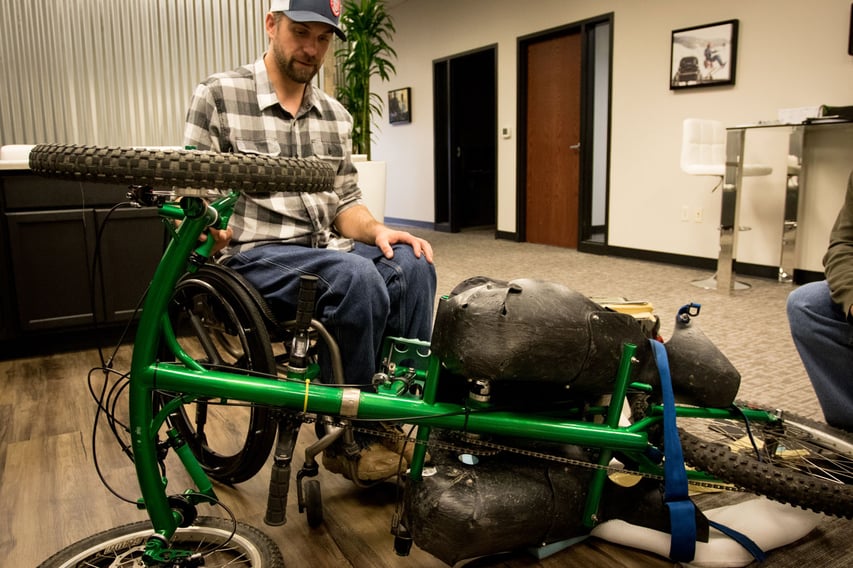 Handcycle evaluation
---
The Results
We started by watching him ride the handcycle and even took the opportunity to ride the bike ourselves. The bike's design places the rider in a kneeling position, with knees and calves in troughs for support, the gluteus and thighs on a "tractor-like" seat, and the chest resting on a pad that provides support and also works as a steering control. We combined materials on the fly and allowed David to test the composition with the goal of improving comfort, positioning, and tissue safety. The seat was entirely reformed and reshaped using stronger but lighter aluminum then blanketed in foam and finished with a water wicking cover. David's knee troughs forced his legs into the protruding hardware and didn't extend into the ankle/foot region. We refabricated the supports with high-density memory foam with the intention of placing the legs in a better position for support and protection. These new parts are 4-positioning adjustable for leg length and to better support the ankle. The chest support surface/steering column was refabricated with a high-density foam and reshaped to have more contour. This contour allows the rider to really lean into corners and have more control steering. David even said, "The quality is night and day from what I had before."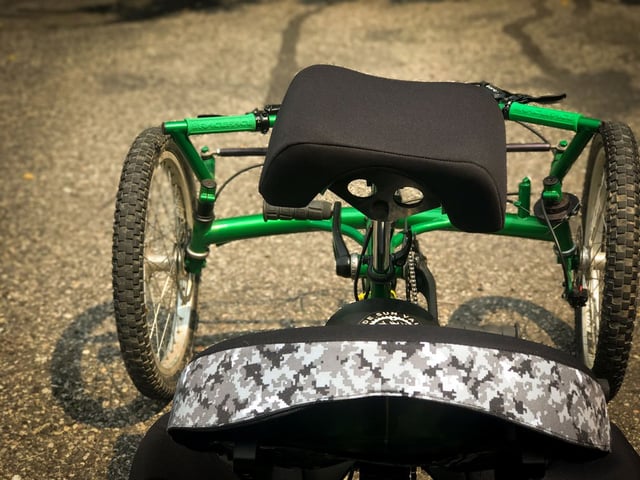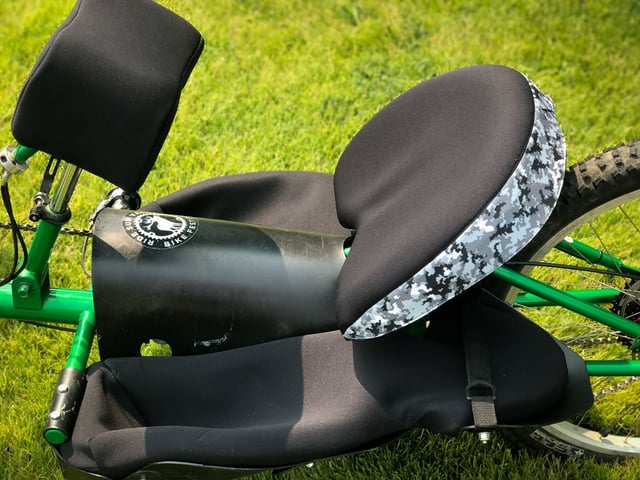 Details of handcycle upgrade
Finally, we turned our attention to the downhill "bucket" bike. Downhill "bucket" bike racing requires a seat that can support the rider while enduring constant abuse. We started by reshaping and trimming the plastic used for the seat. Then we custom molded a foam cushion into the seat and covered it in water-wicking foam. The end result gives David better back support, skin protection, and a faster time at the end of the race!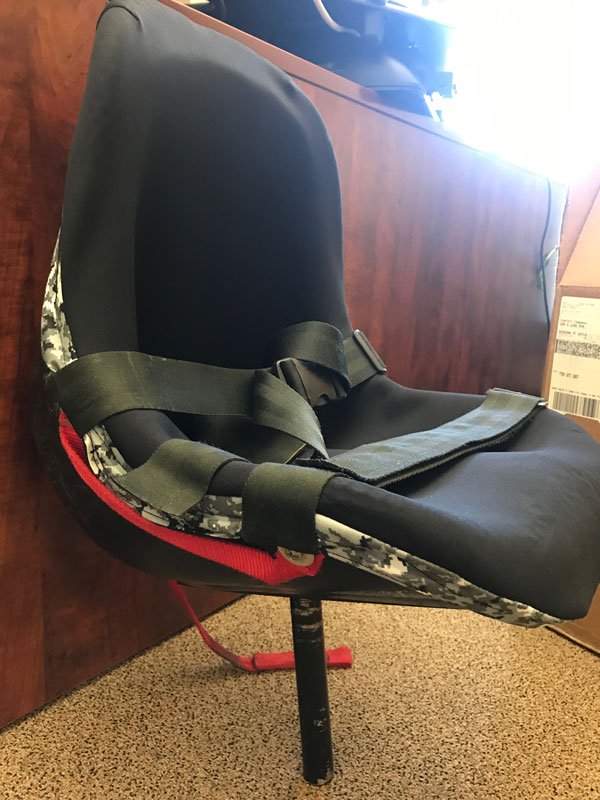 Custom molded downhill "bucket" bike seat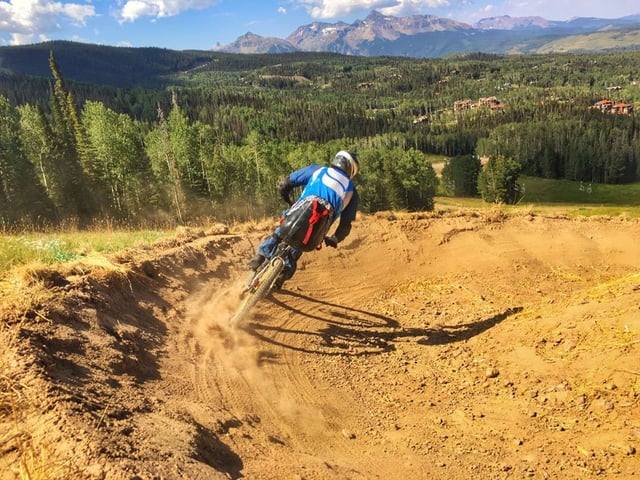 Testing the upgraded downhill "bucket" bike at Mountain Village Bike Park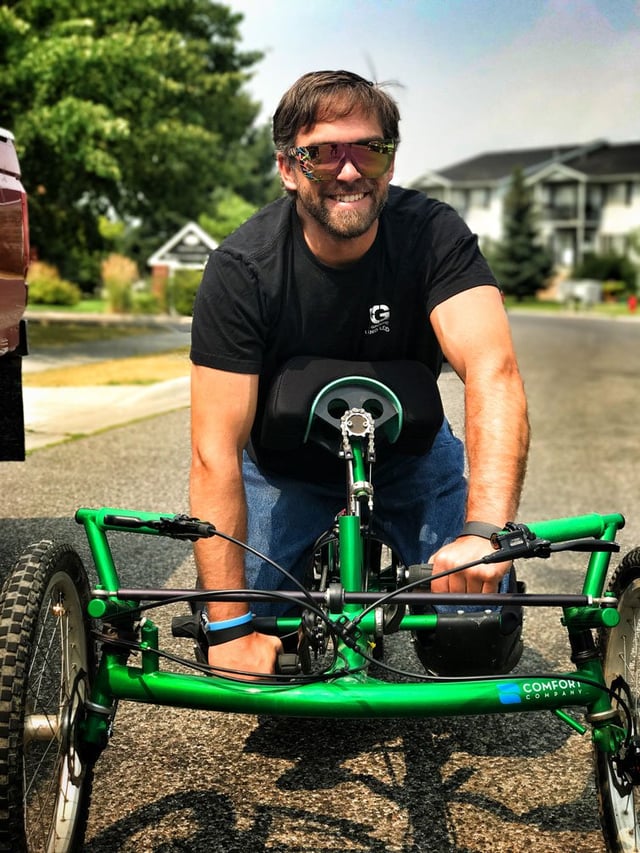 David Poole with his upgraded handcycle
David Poole has been an integral part and inspiration for the Comfort Company staff for many years. His inspiring outlook on life and passion for what he believes in is a driving force behind Comfort Company. In the future, we can't wait to participate in more life changing projects for end-users. Thank you very much to David Poole for his cooperation and everyone on the Comfort Company team that brought this project to completion. You can follow David on the rest of his inspiring journey on Facebook and Instagram.