WHAT IS BRETTAPPROVED™?
brettapproved™ is a website allowing users with disabilities to rate and review hotels and restaurants, and book accessible accommodations.There are 54 million people with disabilities living in this country and updated statistics from Open Doors Organization indicate that people in wheelchairs spend $17.3 billion on travel. With brettapproved™ you can dine, travel and be entertained more confidently. We caught up with Brett Heising, the founder and CEO of brettapproved™ for some insight on his life and his business.
---
Q: What inspired you to create brettapproved™?
A. I founded brettapproved.com because I wanted to answer one fundamental question: Why are accessible hotel rooms with roll-in showers so challenging to book? All too often, I arrive at a hotel only to discover that the room I booked with the roll-in shower was given to another patron or didn't exist. At brettapproved.com our mission is to help anyone with a physical disability or mobility challenge and their families secure accessible hotel accommodations. Because travel is for everyone!
Join the brettapproved community today. It's your site! brettapproved.com.
Q: What motivates you?
A: I demand excellence from myself and those around me … I'm motivated by the realization that life is nothing more than an exercise in perseverance. Hence, my goal for each day is simple: I expect to be a better son, brother, uncle, husband, friend and leader than I was yesterday. I accomplish this though honest self-assessment. After all, the world owes us nothing but it will give us everything if we put ourselves in a position to be successful.
Q: Where do you see brettapproved™ in 5 years?
A: Five years from now I expect to have millions of brettapproved community members around the globe leveraging our collective knowledge and utilizing brettapproved to discover hotels, restaurants and entertainment venues that meet the individual needs of our users. Like any group, our strength will be found in numbers. There are 54 million adults in the United States with some type of mobility challenge. Worldwide, that number skyrockets to more than 300 Million. People with disabilities spend more than $13.5 billion annually on travel and entertainment. At brettapproved, in five years, I expect to double that annual spend and help anyone with a physical disability or mobility challenge travel confidently.
Q: What do you love doing in your spare time?
A: Spare time? Ha! What's that? As an entrepreneur who has a responsibility to my investors to be the best CEO I can be, I work a lot. But on those rare occasions when the opportunity avails itself, I love spending time with family and friends enjoying great food and a quality bottle of wine.
As a proud graduate of The Ohio State University, Buckeye football is practically a secular religion. So needless to say, I NEVER miss game day … if I can help it. ;)
Q: What's your life motto?
A: I have two fundamental beliefs that drive me:
To whom much is given; much is expected.

You can't appreciate where you are or anticipate where you're going, unless you respect where you're from.
Q: How can people reach you?
A: I believe that everything we do in life — EVERYTHING — is relationship-driven. With that, I strive to be the most accessible CEO in the world. One of the greatest gifts we can give someone is our attention. So, if you have a question or something you just want to talk about, email me at: brett@brettapproved.com. I'd love to hear from you!
---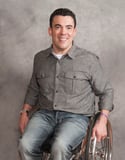 Brett Heising
Founder/CEO of brettapproved™
FOR MORE INFORMATION:
email Brett directly at: brett@brettapproved.com