Since we have launched the PushTracker E2 and SwitchControl, we hope more people have been able to integrate a power assist device into their manual mobility routine. We love having the opportunity to share our mobility solutions with the world, and it's even better when one of the people who uses our products is willing to share their experience.
During our free webinar "Beyond the Set Up: SmartDrive PushTracker E2 & SwitchControl Updates with Next Level Tips", we highlighted unique features available with the PushTracker E2 and SwitchControl that many people might not know about. Best of all we interviewed special guest Brandon Oney who is a SmartDrive user himself. He shared his experience and also did a live Q&A session with the webinar attendees.
We reached out to Brandon and asked him a couple of questions so everyone could get to know him a little prior to the webinar:
Let's start simple. Where are you from Brandon?
I am from Minnesota.
How do you like to spend your time?
I like to spend my time with family and friends. When not doing that I am a big fan of sports so most often you will find me watching a game assuming there is one being broadcast.
Yeah; it's been a tough time for sports. How have you been spending time during these very strange and difficult Covid-19 times? Picked up any new hobbies?
No new hobbies per se however I have acquired patience, I really wish during these times I could be more active but that is coming with more and more opening up here where I reside.
We heard that you are a pretty big Minnesota Vikings fan. How did that come about?
Born and raised in Minnesota with a love for football that formula leads to only one team, I like to tell people I have Minnesota Vikings purple in my blood. As we say up here SKOL Vikings.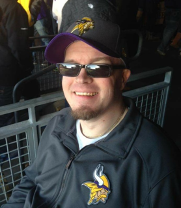 When looking for mobility products, what do you look for?
Mobility products for me must have two things: ease of use: to allow for integration into my lifestyle as seamlessly as possible; and reliability: I need to know my products will perform when I need them.
How long have you been using a SmartDrive or any other Permobil product?
Born with Cerebral Palsy, I have used a wheelchair full-time since age 13. Presently I am 37 years old and my last two wheelchairs have been TiLite. I attained my SmartDrive at the tail end of 2017. I have been using Permobil products exclusively for the last eight years.
Ok. Last question so we have more to talk about on the webinar. You are a big help to people on the SmartDrive Facebook group, what made you want to volunteer your knowledge to others?
The SmartDrive is a product that has truly changed my life and brought me freedoms I never thought possible in a manual wheelchair. I share my experiences and product knowledge with others having a true desire that such information will allow them to have a similar life-changing experience.
Well, we are very thankful for your help & for joining us during this webinar.