Awa Sibi, Mohamed Jalloh, and Yacouba Sibi
---
Last month Comfort Company teamed up with the Waisman Center, National Seating and Mobility, and GMR Marketing to provide a complete seating system for six year old Yacouba Sibi.
The Situation
Yacouba, affectionately known as Baba, has low muscle tone, limited self-ambulating and speech skills due to Cerebral Palsy. Having a properly fitting wheelchair allows him to participate in school and require less assistance from others. He's a very smart and energetic kid who attends first grade in Madison, Wisconsin; in fact, the morning before his chair was delivered, Yacouba received an outstanding student award at his grade school. Yacouba was in need of a new wheelchair, but his mother Awa wasn't able to use social welfare programs, national Medicare, or state Medicaid afforded to disabled pediatric U.S. citizens due to her temporary student Visa. Having recently graduated, Awa didn't have the financial means to purchase the equipment for her son. Comfort Company, along with the rest of the team, provided Yacouba an adjustable pediatric wheelchair and several seating components that can grow as he does.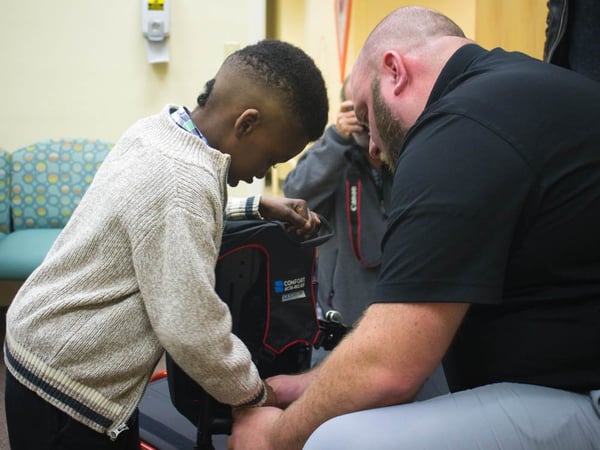 Yacouba Awes helps Colin Thorpe, ATP
The Seating & Positioning Solution
Comfort Company's Wisconsin Territory Manager, Colin Thorpe, and Rose Ebner, ATP with National Seating and Mobility, outfitted Yacouba with a custom Inception Cushion and an Acta-Relief back support. Colin broke down for us why those two products were specifically chosen, "We selected the Inception Cushion because Yacouba likes to sacral sit in his cushion or slide forward. By including an anti-thrust, it minimizes that forward motion. Adding 1.5" straight adductors also helps keep his legs aligned and minimizes abduction. The Acta-Relief back support delivers great adjustability depending on the support Yacouba needs from day to day. Since Yacouba has low muscle tone with his Cerebral Palsy the Acta-Relief's adjustability and lateral support allows him to have stability and support without compromising his ability to move and be interactive while in his chair."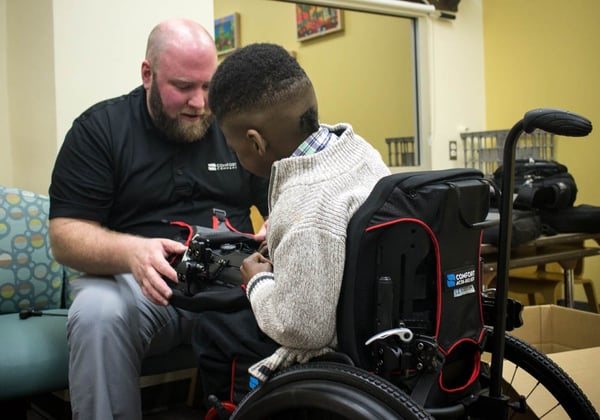 Colin Thorpe, ATP with Yacouba Sibi
The Results
With the adjustable pediatric wheelchair, custom Inception Cushion, and highly adjustable Acta-Relief back support Yacouba has a great "growable" seating and positioning solution to serve him to adulthood. We think the photos speak for themselves on the overall fit and comfort of Yacouba's new seating system. Thanks again to the Waisman Center, National Seating and Mobility, and GMR Marketing for making this a success.