Trust & Transparency
Permobil believes in the science and evidence that support our innovations. Transparency is necessary to gain your trust in our products when selecting individual seating and mobility solutions.
Cushion Selectio

n
Cushions are confusing. Of the hundreds of cushions, each made of different materials … how do you know which is the right one for you?
Choosing a cushion was overwhelming … but now you can use research and clinical experience to guide your cushion selection.
How to read the cushion thumbprint

What are the individual's needs?

Stability & balance: based on results from ISO Test data
Pain & comfort: based on the individual's preference
Durability: based on experience & cushion medium
Positioning & posture: based on the individual's experience & preference
Skin protection: based on results from ISO Test data
Transfers: based on experience & cushion medium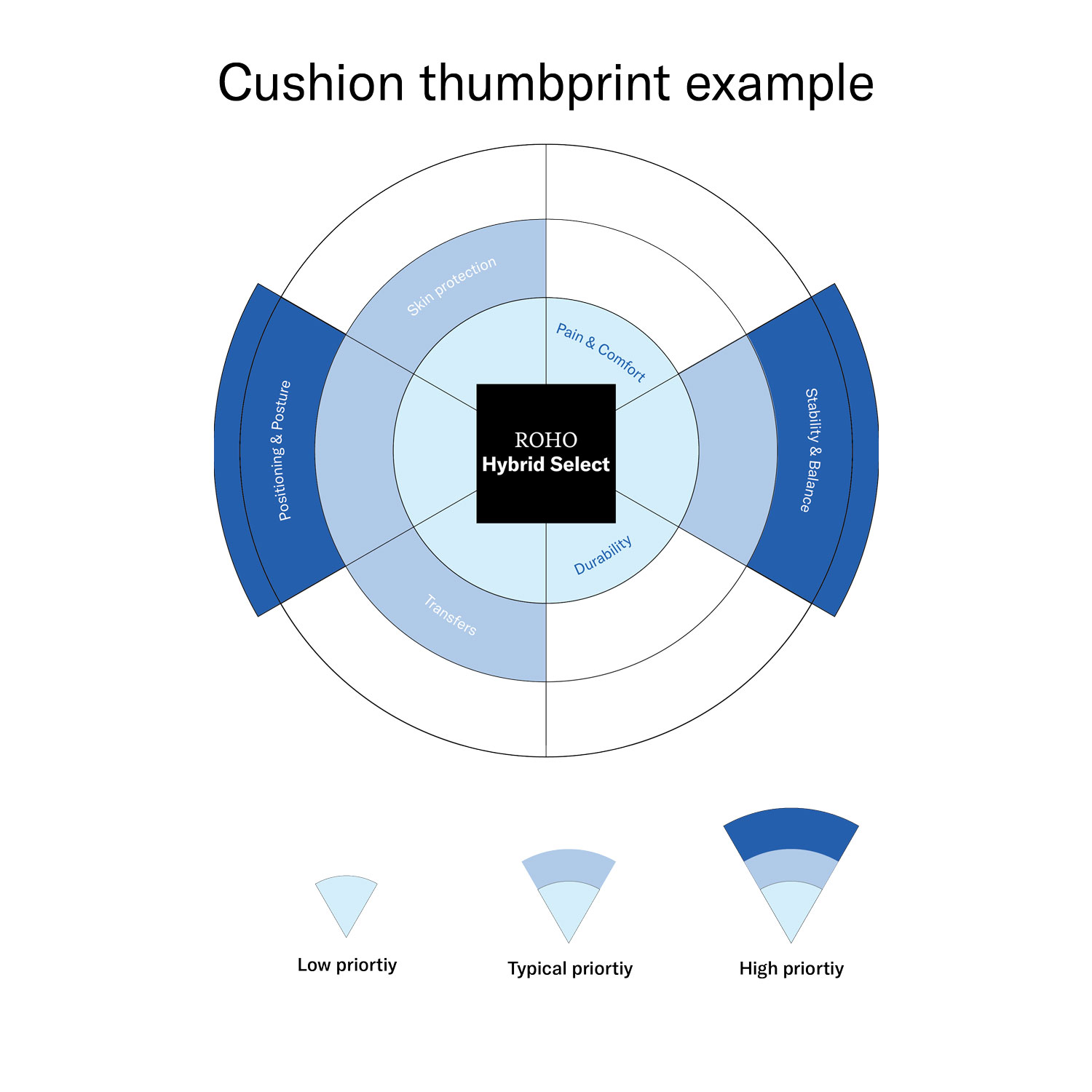 ISO Testing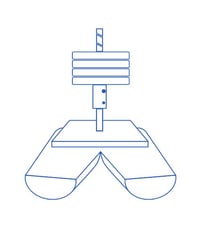 The International Organization for Standardization (ISO) is a global network that publishes standardized procedures, processes, and test methods.
ISO Standards are internationally agreed upon by experts and can be considered a formula that describes the best way of doing something.
Permobil strives to not only meet the ISO standards but exceed them when designing and innovating for individuals. ISO standardized tests are voluntary and Permobil chooses to participate in these standards to ensure our products are supported by science.
University of Pittsburgh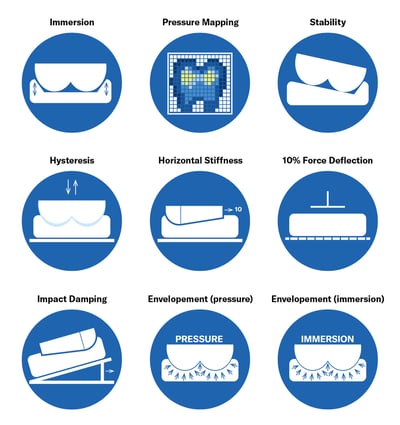 The University of Pittsburgh's Rehabilitation Engineering Research Center (RERC) has been involved in the development of ISO standards for wheelchairs and wheelchair seating.
The Wheelchair and Cushion Standards group at RERC applied a subset of test methods (from the ISO 16840) and created a tool to explore the cushion performance data of their research. Of approximately 50 cushions from multiple manufacturers, the RERC researchers selected 10 cushions that are manufactured or distributed by Permobil Americas, to be included in the study.
Permobil Cushion Performance
At Permobil, we believe that a seating solution can only be successful when the individual's needs are understood. One performance test or measure should never be used as a cushion selector tool. 
Permobil's Scientific Report on Cushion Performance Metrics uses data collected from the University of Pittsburgh's RERC study and NPIAP's Clinical Practice Guideline (CPG). With these results and expert consensus, the cushion materials can be related to the individual's needs and can help guide the seating solution choice.
Permobil's ten cushions included in the RERC data set are listed below for Skin Protection and Stability & Balance ISO tests.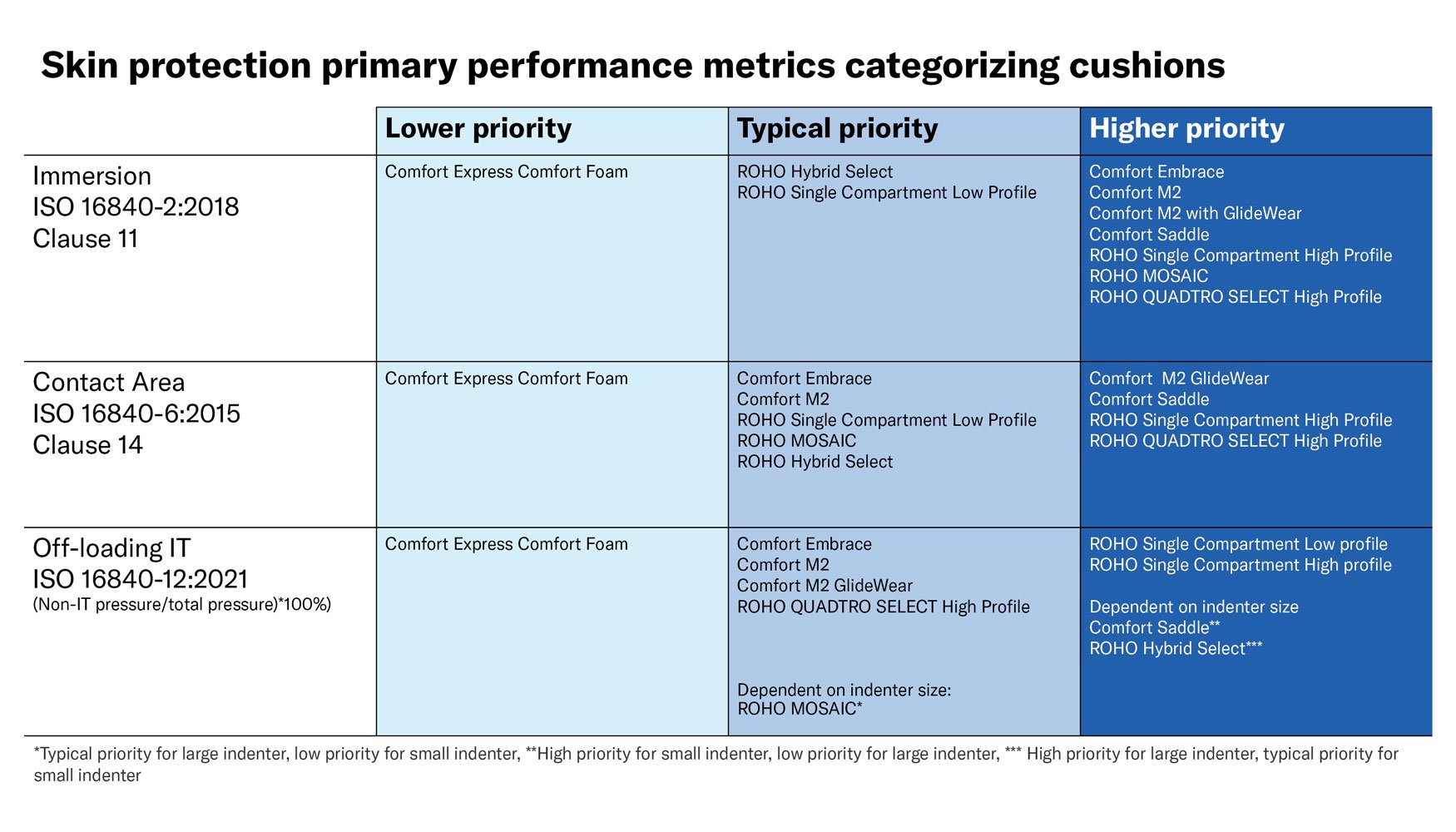 Watch the free webinar Scientific Report: Guidance to individualized cushion selection base on performance metrics
NPIAP's Clinical Practice Guideline
Skin protection and preventing pressure injuries is important to every person with limited mobility.
The National Pressure Injury Advisory Panel's (NPIAP) Clinical Practice Guideline (CPG) for the prevention and treatment of pressure injuries was published in 2019. Over 250 international experts reviewed evidence of over 3500 peer reviewed research studies.
The CPG provides a clinical perspective that can be applied to the development and application of ISO tests. The CPG also includes recommendations on: 
• prevention and treatment of pressure injuries
• the etiology of the wounds
• patient risk factors
• clinical care recommendations
• interventions and healing strategies
• the role of support surfaces including mattresses, overlays, and wheelchair cushions
Based on the CPG, Permobil created The Pressure Management Guide, an extensive resource to better understand the role of support surfaces and wheelchair systems for pressure management. Short on time? Check out the The Wheelchair Seating Pocket Guide, a condensed resource to help select wheelchair seating components for pressure injury management.

---
"Every person has the right to have his or her disability compensated as far as possible by aids with the same technical standard as those we all use in our everyday lives."
Per Udden, Permobil Founder
For more information click here to contact your local representative.
All contents © copyright 2023 Permobil. All rights reserved.